INTERVIEW: BREGUET CEO NICOLAS G. HAYEK
Rating:

52

%

100

0

with

242

votes
Do you like this?

Yes

3

Not so much

0

PW: Let me ask about the expansion of Manufacture Breguet. You had already expanded it in 2002 with an investment of about SF15 million. Now there's a new wave of expansion. Why?

NGH: The investment that we have made in Breguet is now bearing fruit. When I took over Nouvelle Lemania in 1999 — now Manufacture Breguet — they were making 1,200 pieces per year. Last year we made 22,000 luxury watches. This year we are probably going to get to 30,000. And we produce them. We don't make them by buying movements somewhere else. We have to greatly increase the capacity to make components. To pro¬duce the components, we need automatic machines and genuine, good watchmakers. Then we have to assemble these components into high-class watches and complications.
All these ateliers need additional people and additional machinery. We are expanding the factory and buying very many new machines and adding new people and new management. We have in¬vested another SF20 million in the new expansion of the building. And we have invest¬ed another SF10 million to completely reno¬vate the old building.
For the next step we are asking the town to give us a little more land to expand even further, to build space for a larg¬er restaurant for the employees and for more production space. That will cost SF35 million. The basis of the whole expansion and improvement is the product, (and) understanding the requirements of the product.
When I was an industrial consultant, I was a specialist in production, in productivity increase, improvement of machines, equipment, logistics in the plant and in strategy and in marketing. Breguet is benefiting from this. We have a complete list of products we want to make until 2011.
Recently we sat down with 30 to 40 Breguet watchmakers and had a brainstorming session. We sit down together and I tell everybody how creative they are, and that we want to put all of our ideas on the table. I say, "I am not afraid to say stupid things, so I would love to see a watch that does this or that." These 40 people amazed them¬selves: we got 42 new ideas for watches. So now we have plans for watches until the year 2020-2021.

Why is this man smiling? Hayek sports a Tradition 7027 on his left wrist and a Tourbillon 5357 on his right.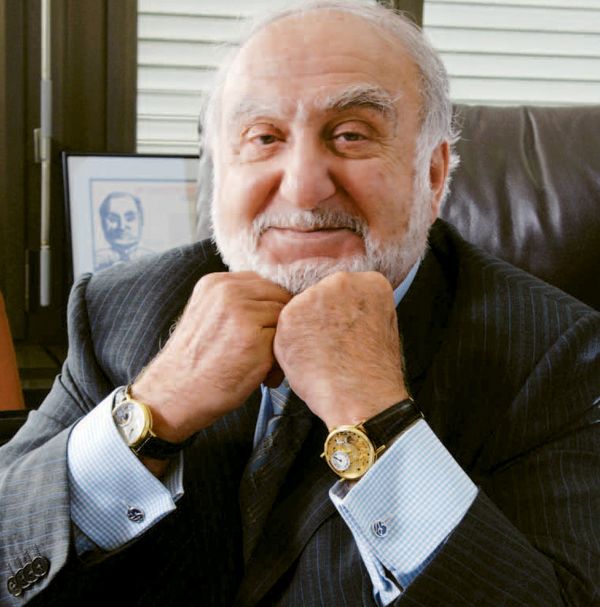 PW: In 2004 you told me you did not want Breguet's production to go over 35,000 units per year. Is that still true?

NGH: No, it's 50,000 because the demand is so much higher now. We are getting there very quickly, much quicker than I thought. Now I am wondering if I shouldn't go to 100,000! (laughter).

PW: Breguet made news last year with the introduction of two movements with silicon components. Are there other technical advances on the way?

NGH: Sure, sure. The silicon development is one example, but we have many more exam¬ples that I don't want to talk about yet. We not only have research and develop¬ment at Breguet, we also have the central R&D of the Swatch Group that my son, Nick Junior, took over and is reinforcing very strongly now. We also have ETA. All together the Swatch Group is the biggest investor in watch research and development in Europe and the United States. Maybe Seiko and Citi¬zen are spending more than (we are), but I don't think so.

PW: Why did you decide to expand La Tra¬dition 7027 watch into a complete family?

NGH: This is a watch I wanted to make from the beginning. Many people said, "Look, this is like putting a car without a hood on the market, which you just don't do." And I said, "No, if we understand how to make the small de¬tails, we can make it a hit." They said, "But Bre¬guet never did it." I said, "This is one reason why we should do it. We're not only doing what Breguet did; we are going to do what we do. We have as much genius as he had." "This is a watch I wanted to make from the beginning. I defended it. La Tradition is going to be a big hit." Now why did I make a family out of it? It was the result of my love for it. I wanted it. I had defended it. When we showed it to the biggest retailers here in Europe, I got letters from people, saying "Wonderful! This is the most fantastic thing that you have done!" When I saw all the excitement, I decided to make it a family. La Tradition is going to be a hit. We have a hand-wound model and an au¬tomatic that's been on the market since De¬ cember. We are going to make it in a tourbil¬lon, and we will produce many other members of the family.

PW: Are you still as active in the auction market? From 2000 to 2004, you bought 80 Breguet watches at auction. You spent around 10 million Swiss francs a year. Is that continuing?

NGH: We are spending at least the same amount. We are buying everything we can find. I have a lot of fun with it, to sit down at the telephone, shouting against an Arab sheik, a multi-billionaire from Texas and a Japanese billionaire, and saying "100,000, 150,000, 200,000, 300,000!"

PW: You've announced that you are mak¬ing a replica of Breguet's famous Marie Antoinette watch. Any news?

NGH: Well, I don't want to say much because my plans are not finalized. We are going to have a Marie Antoinette. We are going to fin¬ish it by the end of the year. But we have to test it. The next question is going to be, how much is it going to cost? We know approximately how much. Then, am I going to make one and keep it in a museum or am I going to make 10 and sell them? Or am I going to make a family out of it and sell it to everybody who wants it, and sell 100 to 120 pieces a year? I don't know.

PW: As chairman, you must have been pleased with the Swatch Group results for 2006.

NGH: This is the first time in the history of the company that we went over SF5 billion. It's SF5.05 billion. Last year we were at SF4.93 bil¬lion. We are going to have a cash flow of more than SF1.2 billion. It is very much more than anybody in the watch industry has, including Rolex and Richemont.