3 Luxury Watches You'll Never Be Able to Afford
3 of the most expensive timepieces in the world
Rating:

53

%

100

0

with

309

votes
Published by
NorMan

3807
on August 2nd, 2012 at 01:45 p.m..
Do you like this?

Yes

2

Not so much

0

For most gentlemen, the purchase of a luxury watch is made for a variety of reasons - maybe they want to reward themselves for their financial success, maybe they are life-long collectors who want to add another model to their collection, or maybe they're just looking for a reliable way to spruce up their appearance.

What is always consistent, though, is the careful consideration that goes into the purchase of a high-end timepiece; with even lower-end luxury watches costing thousands of dollars, most men need to buy wisely and infrequently.

Even for the most successful businessmen, however, there are some material objects which remain completely out of reach - and when it comes to the following 3 jaw-dropping luxury watches, it's safe to say they're only available for the most fortunate of multimillionaires. Still, we can all dream...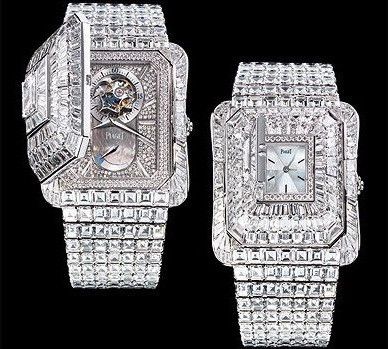 Emperador Temple
At $3.5 million, this product of Swiss watchmaker Piaget is at the top of its Emperador style line and illustrates, in abundance, the company's 1960's launch into the is-it-jewelry-or-is-it-a-watch timepiece design.

With more than 1,200 diamonds covering both the watch and its band, the boundary between timepiece and bracelet is blurred by this timepiece's sheer brilliance.

To call it a watch is, itself, something of a misnomer considering it is, in fact, two separate watches; its pyramid/temple design actually conceals two distinct watches.

The first reveals itself by opening a small hatch that opens to a simple mother-of-pearl and diamond face. The second, larger face features a one-minute tourbillon and power reserve indicator. The diamonds, as previously mentioned, cover it all and come in a variety of brilliant and baguette-cuts, while an emerald-cut stone tops off the temple.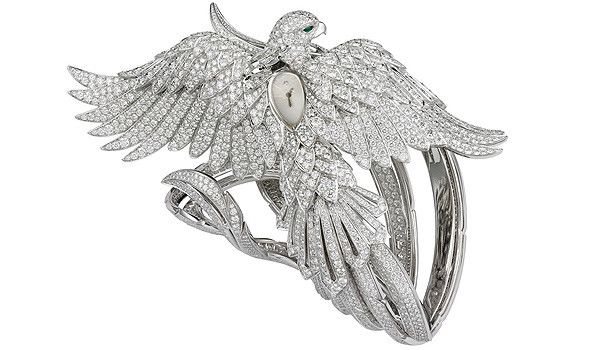 Cartier Secret Watch (Phoenix DÈcor)
If the Emperador Temple doesn't satisfy your diamond craving, this one might do the trick.

Designed in 2010, the Phoenix dÈcor is one of several ìsecretî watches on the famed Cartier list of that design. It is, admittedly, more jewelry than watch and - at a total weight of some 80 carats - it carries the well-deserved price tag of $2.775 million.

With more bracelet than band, the Phoenix-shaped timepiece is formed on 18k rhodium-plated white gold on which the 3,000 diamonds are patterned. One of those diamonds alone is a hefty 3.5-carats and the mythical bird's eyes are, of course, emeralds, adding just the right accent to this diamond-crusted extravaganza.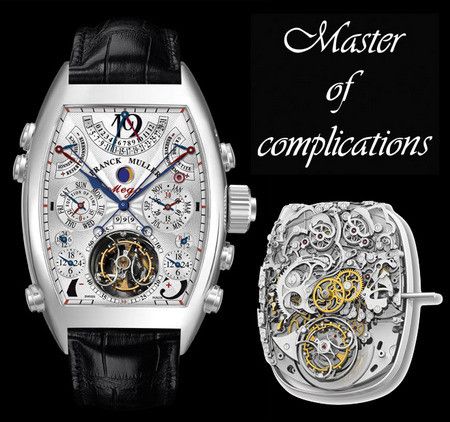 Aeternitas Mega 4
As relative newcomers to the Swiss watchmaking scene, Franck Muller and Vartan Sirmakes didn't officially form a working production team until 1991, but since then their watches have become prized as both art and time-keeping objects.

With a price tag of $2.7 million, their most expensive product is also the most complex wristwatch in the world.

The Aeternitas Mega 4 is made up of 1,488 components and 36 complications, including a Grand Sonnerie carillon that strikes the same chimes as the Westminster Cathedral, a perpetual calendar, dual time zone dials, and a moon phase display with an error of only 6.8 seconds per lunar month.

The Franck Muller website states that the lofty goal of the Aeternitas Mega 4 project was to produce the most complex wristwatch in the world.

The basic challenges of the goal involved designing a case of a volume and shape that would accommodate the complex features and dial that would be both functional and legible.

The basic movement is an automatic movement visible through the open-back. It features a grand tourbillon with a balance wheel with platinum adjustment screws.
Source: www.presentwatch.com