Top 5 Signs for Spotting Fake Watches
Fake or replica watches are not made to the same quality standards that you would find with the real deal, and should you buy a fake watch you could find that you lose out financially
Rating:

55

%

100

0

with

397

votes
Published by
NorMan

3807
on November 19th, 2013 at 03:57 p.m..
Do you like this?

Yes

1

Not so much

0

Luxury timepieces such as Rolex watches or IWC watches are regarded as true symbols of status and style. Passed down through generations, luxury watches can really last a lifetime however there are some vendors who make a business of selling replica watches.

Fake or replica watches are not made to the same quality standards that you would find with the real deal, and should you buy a fake watch you could find that you lose out financially.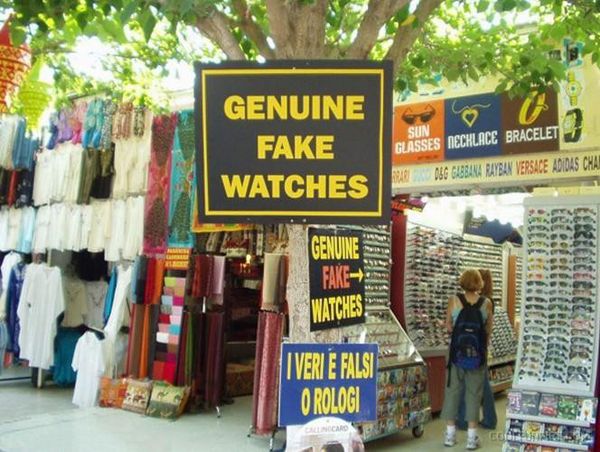 Whether you are an avid watch collector or simply contemplating your first luxury timepiece purchase, it is important that you know what to look for when buying a designer watch. Here are 5 ways that you can easily tell the difference between a fake watch and the genuine article…

1) Where you buy the watch from
With the exception of eBay, timepieces such as Rolex watches aren't actually available for purchase online. This is due to their rarity and exclusivity; therefore you will find that the majority of luxury watches can only be purchased in showrooms. If you do choose to buy a watch online through a service such as eBay, remember to check that the seller offers a certificate of authenticity with your purchase.

2) The Price of the watch
The price tag for luxury watches can reach thousands of pounds therefore if you find that a vendor is trying to sell you a watch such as a Rolex, IWC or Omega watch for a couple of hundred pounds then this is definitely cause for concern. Luxury watches are rarely seen at such low prices, as due to their quality they can often increase in value over the years.

3) The Watch's Typography
Leading watch manufacturers such as IWC, Rolex, Omega and Patek Philippe are completely stringent when it comes to accuracy and perfection, that's why you will never find any typos or any other mistakes when it comes to the typography of their watches.

4) Listen to the ticking
Especially if you are looking to buy a Rolex watch, make sure you press an ear to the watch to hear if it is ticking. The expert craftsmanship of Rolex watches mean that they don't actually produce a ticking noise, so if it is ticking you can guarantee it is a replica – not a Rolex!

5) Check whether the dials are functional
If you are buying a chronograph watch, you will find that there are a number of secondary dials on the main watch face. These dials all have their own unique purpose however on a fake watch these dials are probably not functional. Everything on a luxury watch has a function and a purpose, so if you get the impression that elements of the watch are not working then it is likely that the watch is a fake.