Patek Philippe Sky Moon Tourbillon 6002G
Patek Philippe presents one of the most complex pieces of the world of fine watchmaking: The New Sky Moon Tourbillon Ref. 6002G
Rating:

69

%

100

0

with

398

votes
Published by
José Sousa
2724
on June 17th, 2013 at 11:28 a.m..

Do you like it?

Yes a lot

1

Not so much

0
PATEK PHILIPPE - SKY MOON TOURBILLON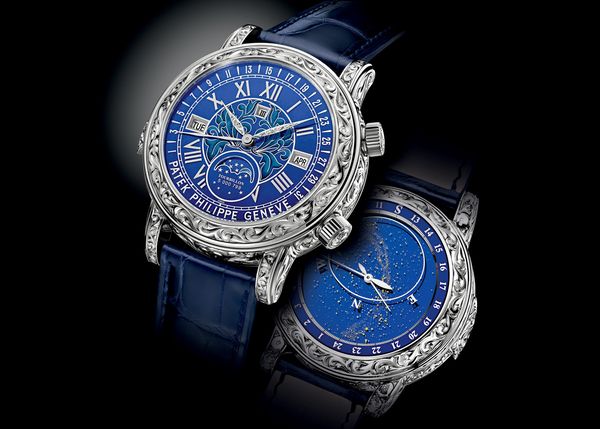 A HIGHLY COMPLEX MASTERPIECE
This new masterpiece from Patek Philippe combines a grand complication with a case and dial that require the utmost in craftsmanship and artistry. This masterpiece is one of the most complicated wristwatch ever made, is actually a piece of breathtaking.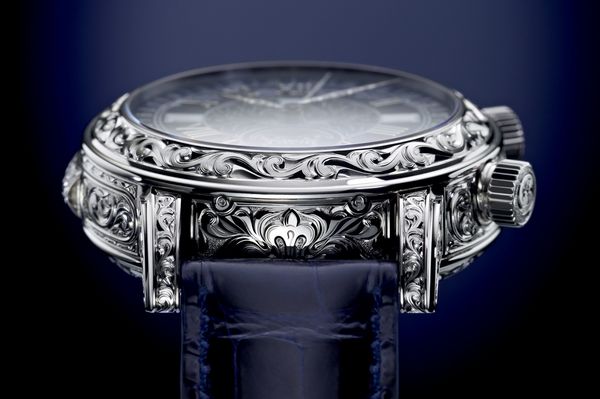 13 COMPLICATIONS AND TWO DIALS
With a minute repeater with two cathedral gongs and a tourbillon, on the front dial, he indicate standard time and feature a perpetual calendar with a retrograde date and a moonphase display. The rear dials set the stage for astronomical functions: show the northern sky, sidereal time, and the angular progression and phases of the moon.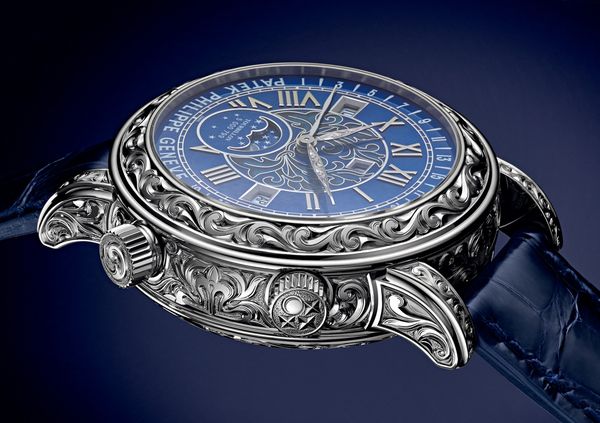 The new Sky Moon Tourbillon indicates the moon phases instead of the moon age, and features apertures instead of hands for the day of the week, month, and leap year displays.

A REAL SCULPTURE FOR THE WRIST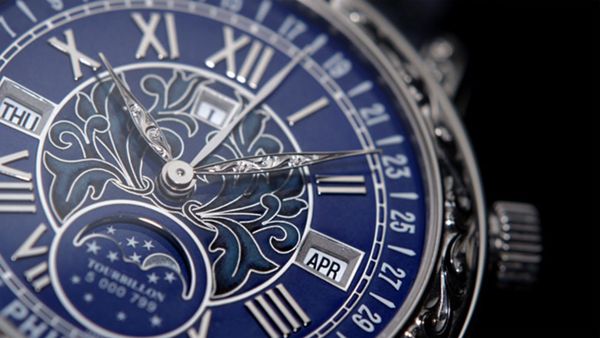 The dial of this new Sky Moon Tourbillon is enamel, with the centre in cloisonné, decorated with what else but an Arabesque decoration, while the outer ring is deep blue champlevé enamel.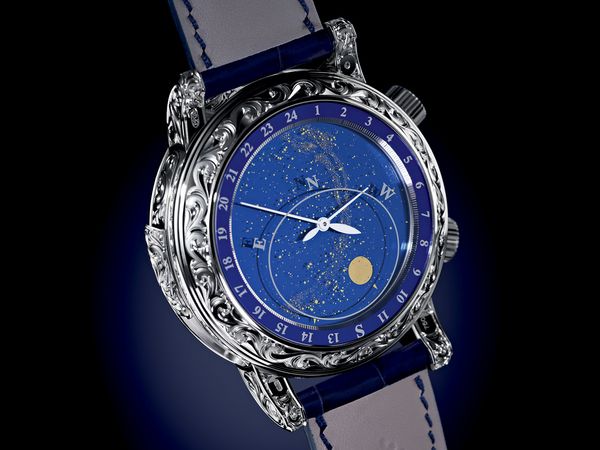 The most dramatic new aspects of the watch, however, are its lavishly decorated and richly engraved case and highly complex grand feu enamel dial. Patek Philippe estimates no more than 2-3 pieces per year will be made.

PRICE:
On Demand Only

TECHNICAL DETAILS - SKY MOON TOURBILLON
REFERENCE:
6002G

MOVEMENT:
Manually wound mechanical movement
Minute repeater, tourbillon, perpetual calendar
Caliber RTO 27 QR SID LU CL
With aperture displays and retrograde date, moon phases, sidereal time, angular
Progression of the moon
Balance Gyromax®
With 686 Components

TOURBILLON:
1 revolution per minute
With 69 Components
With o,3 gr overall weight
Steel cage, tourbillon, balance wheel, and fourth wheel on one axis
Balance spring Breguet
Balance spring stud Adjustable
Patek Philippe Seal, rate accuracy certificate for Patek Philippe tourbillon watches

SIZE:
Overall diameter: 38 mm
Height: 12.61 mm

VIBRATIONS:
21,600 vph 3 (Hz)

JEWELS:
55 Jewels

POWER RESERVE:
48 hours

FUNCTIONS:
Minute repeater, tourbillon, perpetual calendar, solar time, sideral time

CASE:
18K white gold with reliefed engraving

CROWNS:
At 4:00 o'clock to wind the movement and set the hands for mean solar time, hand-engraved
At 2:00 o'clock to adjust the sky chart, sidereal time, angular position of the moon, and the moon phase, hand-engraved
Slide in the case flank to actuate the minute repeater

HANDS:
Hours and minutes: leaf-shaped hands in white gold, hand-engraved

SIZE:
Measuring 42,80mm in diameter

DIAL:

FRONT SIDE DIAL:
Gold dial with blue enamel in champlevé and cloisonné
Railway-track minute scale integrated in the blue champlevé enamel
Applied Roman numerals in white gold
Date numerals and markers, signature lettering, and movement number painted bright gray

Mean solar time in hours and minutes, perpetual calendar with retrograde date, day of week, month, leap year cycle, and moon phases

BACK SIDE SKY CHART:
Four metallized sapphire-crystal disks
Hours and minutes of sidereal time white counterbalanced baton hands

Sidereal time in hours and minutes, time of meridian passage of Sirius and of the moon, angular progression of the moon, and moon phases

MINUTE REPEATER:
Hour, quarter-hour, and minute strikes on two "cathedral" gongs

Correction push pieces (in the case flank):
Date and day between 11:00 and 12:00 o'clock
Month between 3:00 and 4:00 o'clock
Moon phase between 5:00 and 6:00 o'clock
Day of week between 6:00 and 7:00 o'clock

GLASS:
Sapphire-crystal glass front and rear

STRAP:
Hand-stitched shiny blue alligator with large square scales and handengraved fold-over clasp in 18K white gold

FOR MORE INFORMATIONS
SITE:

www.patek.com