Tourbillon RM 27-01 Rafael Nadal
Richard Mille new Tourbillon timepiece for BaselWorld 2013
Rating:

67

%

100

0

with

270

votes
Published by
José Sousa
2725
on February 22th, 2013 at 12:11 p.m..

Do you like it?

Yes a lot

1

Not so much

0
Richard Mille - Tourbillon RM 27-01 Rafael Nadal

LIMITED AND NUMBERED EDITION OF 50 PIECES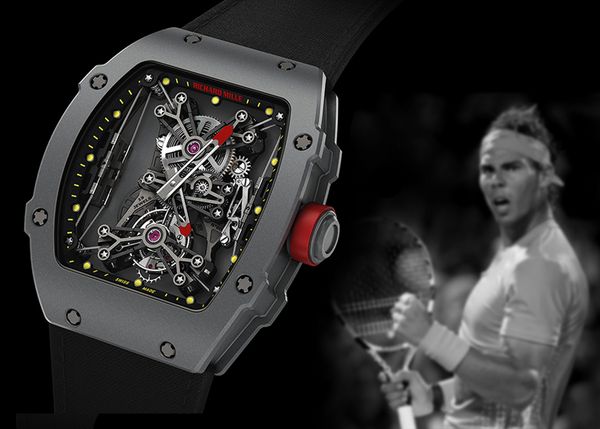 Tourbillon RM 27-01 Rafael Nadal

This innovative watch is without any doubt an of the most amazing architectural constructions of the last decade and is once more the result of a partnership between Richard Mille and Rafael Nadal as the marketing icon.

The Spanish tennis player Rafael Nadal, 7 times winner of the tournament Roland Garros, won his last contest in Brazil during last Open, defeating the Argentinian player David Nalbandian. If you were watching TV, you probably have seen on his wrist that he was wearing the new Tourbillon of Richard Mille RM 27-01.

An astonishing creation that takes the mixes the concepts of lightness and strength to the extreme limits.

A real triumph for the engineering technology.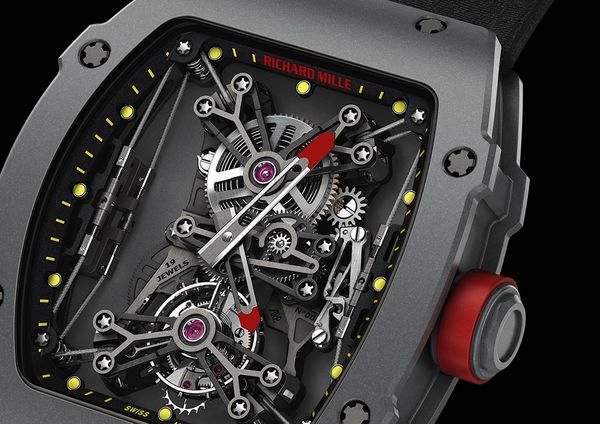 Its complex, original architecture is the result of Richard Mille's determination to create a movement held in total suspension in the heart of its case. Inspired by suspended civil engineering infrastructures, Richard Mille wanted to adapt these modes of construction to the watchmaking sphere, occupying a space of just a few tens of millimetres.

Designed to stay in suspension inside its case, this exceptional caliber can withstand accelerations of over 5,000 G.

The RM 27-01 weighs just 19 grammes, Velcro® strap included. This feat was made possible by the material selected for the case. Carbon has the place of honour in the composition of the RM 27-01's case, which features a monobloc back. Its anthracite colour is due to the high concentration of carbon nanotubes. The result: perfect resistance to shocks and scratches, and the comfort that is vital to Rafael Nadal during his tournaments, all of which he now plays with an RM 27-01 on his wrist.

The RM 27-01, available in carbon nanotubes and supplied on a Velcro® strap, is available in a limited edition of 50 timepieces.

RETAIL PRICE:
$ 690,000.00

Technical details RM 27-01 Tourbillon Rafael Nadal
LIMITED AND NUMBERED EDITION OF 50 PIECES

Caliber RM27-01:
Manual winding tourbillon movement with hours and minutes. Dimensions: 45.98 mm x 38.90 mm x 10.05 mm.
Weight of the movement: circa 3.5 g

Main features

Baseplate of the movement in grade 5 titanium and bridges in aluminum-lithium:

The movement of the RM 27-01 is made of titanium and LITAL®, a lithium alloy containing aluminium, copper, magnesium and zirconium, with a density of 2.55.
The addition of Lithium provides to the mechanism more flexibility and greater shock resistance. This alloy is also applied in aerospace on the Airbus A380, helicopters, rockets, satellites as well as in Formula 1.
The skeletonised baseplate and the bridges have been subjected to intensive and complete validation tests to optimise their resistance capacities.
Power reserve: 45 hours

Cable-suspension mechanism:
The baseplate of the RM 27-01 Rafael Nadal is attached to the case by 4 braided steel cables, each with a diameter of just 0.35 mm.
These cables are held taut by an ingenious mechanism of tensioners (located at 3 and 9 o'clock) and pulleys, which act like pylons positioned at the four corners of the movement. Each cable is fixed to the tensioner, and passes over the upper pulley and into the movement, before returning via the lower pulley to finish in the lower flange. Once the watchmaker has threaded the cables, he tensions them by rotating the central tensioner ring using a special tool.
Designed to stay in suspension inside its case, the caliber RM27-01 can withstand accelerations of over 5,000 G.

Free sprung balance with variable inertia:
A free sprung balance with variable inertia and a terminal-curve spring (originally designed for pocket watches) guarantees greater reliability in case of impacts and during movement assembly and disassembly, thus achieving better chronometric results over time.

Fast rotating barrel:
(6 hours per revolution instead of 7.5 hours
This type of barrel has the following advantages:
The phenomenon of periodic internal mainspring adhesion is significantly diminished and performance is thus enhanced, It provides an excellent delta of the mainspring curve. The choice is determined by the ideal
power-reserve/performance/regularity ratio.

Barrel pawl with progressive recoil:
This device permits an appreciable winding gain (circa 20 %), especially during the start of winding. It also promotes the even distribution of the mainspring's internal tension.

Winding barrel teeth and centre-wheel pinion with central involute profile:
The central involute profile of the winding barrel teeth provides an optimal pressure angle of 20°, which promotes effective rotary motion and compensates for possible variations in the operation of the going train. This, in turn, ensures excellent torque transmission and a distinct improvement in performance.

Spline screws in grade 5 titanium for the bridges:
This permits better control of the torque applied to the screws during assembly. These screws are therefore unaffected by physical manipulation during assembly or disassembly and age well.

Other features

Movement dimensions: 27.20 mm x 21.72 mm - Thickness: 5.04 mm
Tourbillon diameter: 12.30 mm
Balance diameter: 10.00 mm
Number of jewels: 19
Balance: in Glucydur, with 2 arms and 4 setting screws
Moment of inertia: 11.50 mg.cm2, angle of lift 53°
Frequency: 3 Hz (21,600 vph)
Balance spring: in ELINVAR by Nivarox®
Shock absorbers: Kif Elastor by KE 160 B28
Barrel shafts: in nickel-free Chronifer (DIN x 46 Cr13 + S), with the following characteristics: stainless, non-magnetic, tempered.

Case:
The case of the RM 27-01 is made from an extremely strong anthracite polymer injected with carbon nanotubes. This combination produces a material that protects the movement and the tourbillon positioned inside it against impacts. The caseband and case back feature monobloc constructions for evermore improved lightness and rigidity.
The crystal, with its anti-reflective treatment, has remarkable properties that ensure extreme toughness and optimum rigidity.

Spline screws in grade 5 titanium for the case:
Due to their design, these screws offer better control of the torque applied to them during assembly.
They therefore remain unaffected by the physical manipulations involved in assembly and dismantling, and age well.

Flange:
Upper flange in aluminium with hour-markers filled with an approved luminescent substance.

Crystal:
In Grilamid TR-90.
Thickness: 1.20 mm and 4.01 mm at the edges

Finishing

Movement:
Hand-polished bevelling
Shot-blasted milled sections - Stretched upper surfaces

Pièces en acier:
Shot-blasted surfaces
Satin-brushed surfaces
Hand-polished bevelling
Long strokes
Matt "brouillé" strokes
Long strokes on the sides - Polished sinks

Profile-turning:
Lapped and polished ends - Burnished pivots

Wheels:
Diamond-polished sinks
Circular decorations on the front surfaces
Rhodium-plating (before cutting the teeth)
Minimal corrections are made to the wheels to preserve their geometry and overall performance

FOR MORE INFORMATIONS:
SITE:

www.richardmille.com