VULCAIN 50s PRESIDENTS FOR HERBIE HANCOCK
THE VULCAIN 50s PRESIDENTS FOR HERBIE HANCOCK LIMITED EDITION
Rating:

53

%

100

0

with

267

votes
Published by
José Sousa
2725
on August 13th, 2012 at 04:34 p.m..
Do you like this?

Yes

0

Not so much

0

THE VULCAIN 50s PRESIDENTS FOR HERBIE HANCOCK LIMITED EDITION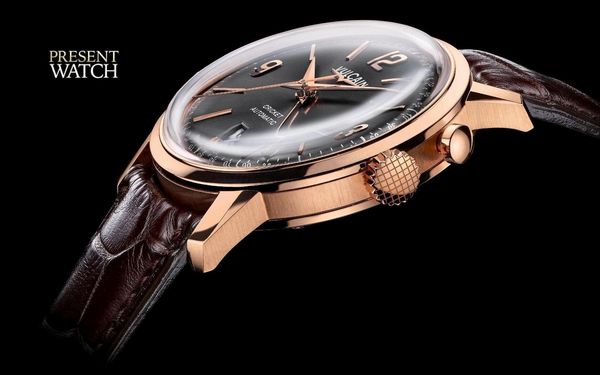 AN EVENING WITH HERBIE HANCOCK

A few minutes before his 32nd concert at the Montreux Jazz festival, and in front of an audience of fans, Herbie Hancock was greeted by the CEO of the Vulcain Manufacture, Mr. Bernard Fleury, to receive the watch dedicated to him:

THE VULCAIN FOR HERBIE HANCOCK 50s PRESIDENTS LIMITED EDITION in Pink Gold bearing the number 1/50.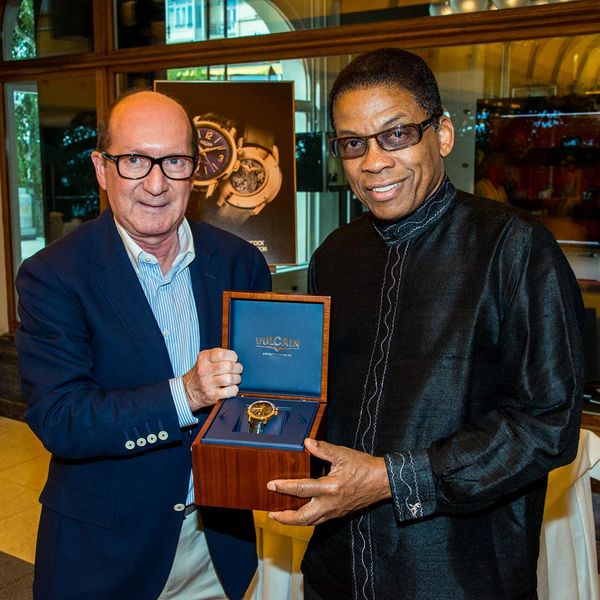 Eager to explore new avenues, Herbie Hancock subsequently founded his own group, the Headhunters.

Their first eponymous album became the first platinum record in the history of jazz, and the "Chameleon" hit was an instant legend.

Herbie Hancock's projects were to have a profound influence on jazz and on American music in general.

He is indeed considered one of the prime promoters of funk, an instigator of rap, as well as a source of inspiration for R&B artists.

He even released the Future2Future album in 2001, merging technology and music.

By associating computers with turntables and legendary voices, he laid a new milestone in the quest for contemporary sounds.

Alongside his professional commitments, Herbie Hancock also supports several charitable causes pursuing a social, musical or medical mission.

In 2011 at a ceremony in Paris, Herbie Hancock was named UNESCO Goodwill Ambassador for the promotion of intercultural dialogue.

VULCAIN CELEBRATES THE BLUE NOTES OF JAZZ

Watch manufacturer Vulcain is establishing an exclusive partnership with pianist Herbie Hancock:

An encounter between two legends that has found its first expression in the creation of two limited edition 50s Presidents' Watch models dedicated to the brilliant pianist.

Herbie Hancock is a jazz chameleon who has made his way through changing styles and eras while consistently adding his own touch of musical genius.

A gifted musician who played with legendary figures such as Miles Davis and Chaka Khan, a brilliant performer who has earned multiple distinctions including 14 Grammy Awards, Herbie Hancock has recently agreed to share with Vulcain his love for the blue notes of jazz through an exclusive partnership.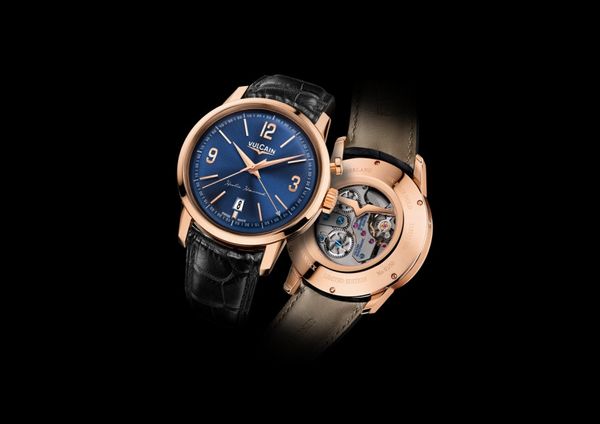 A specialist of mechanical alarm watches thanks to its iconic Cricket movement, the Manufacture in Le Locle is celebrating this new partnership by creating a limited-edition Presidents' Watch model.

Thanks to this alliance with Herbie Hancock, the watch company is pursuing its support for the world of culture and thereby strengthening its presence in the world of jazz – the global musical movement born in the United States and which remains a perpetual source of experimentation and renewal, very much like that of Fine Watchmaking.

With their unique midnight-coloured dials, the two 18K pink gold and steel limited series will provide a tasteful accompaniment for "blue mood" enthusiasts.

The Herbie Hancock 50s Presidents Watch is available in two limited editions:

18K 5N PINK GOLD
LIMITED AND NUMBERED EDITION OF 50 PIECES

STEEL 316L
LIMITED AND NUMBERED EDITION OF 250 PIECES

Each of the watches in this Herbie Hancock special edition is also accompanied by a certificate bearing his signature and authenticating the limited edition production of each of the models, along with an album by the artist.
Source: www.vulcain-watches.ch