ZENITH & FELIX BAUMGARTNER - PHOTOS FROM THE MISSION
MISSION ACCOMPLISHED - THREE WORLD RECORDS
Rating:

51

%

100

0

with

144

votes
Published by
José Sousa
2723
on October 16 2012, 14:12.
Do you like this?

Yes

1

Not so much

0

ZENITH & FELIX BAUMGARTNER - THE MISSION

PRESENTWATCH congratulates FELIX BAUMGARTNER:

On having beaten three world records by jumping from the stratosphere.

MISSION ACCOMPLISHED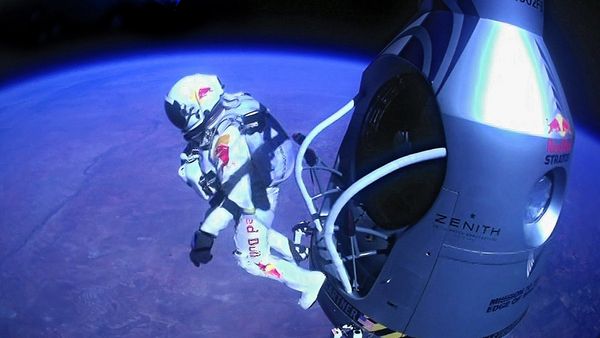 MISSION ACCOMPLISHED

After flying to an altitude of 39,045 meters (128,100 feet) in a helium-filled balloon, Felix Baumgartner completed a record breaking jump from the edge of space.

Felix reached a maximum of speed of 1,342.8 km/h (833mph) through the near vacuum of the stratosphere before being slowed by the atmosphere later during his 4:20 minute long freefall.

The project attempted to transcend human limits that have existed for over 50 years and smash three world records:

1 - The highest manned balloon flight
2 - The highest freefall
3 - The first time in history, breaking the sound barrier with the human body

Zenith Manufacture is one of the main sponsors and sole timekeeper of this extremely dangerous mission.

The Red Bull Stratos team brings together the world's leading minds in aerospace medicine, engineering, pressure suit development, capsule creation and balloon fabrication.

ZENITH - OFFICIAL TIMEKEEPER OF REDBULL STRATOS

The most titled brand in the field of precision

Great achivements require great precision

Never stop exploring make history

ZENITH, the Pioneer Spirit since 1865

FOR MORE INFORMATIONS:

SITE:
www.zenith-watches.com
Source: www.presentwatch.com