BLANCPAIN RACE WEEKEND SILVERSTONE
BLANCPAIN ENDURANCE SERIES IN SILVERSTONE
Rating:

55

%

100

0

with

349

votes
Published by
José Sousa
2721
on June 5 2012, 16:27.
Do you like this?

Yes

1

Not so much

0

FANTASTIC VICTORY FOR MARC A. HAYEK AND PETER KOX AT SILVERSTONE

THE LAMBORGHINI BLAINCPAIN SUPER TROFEO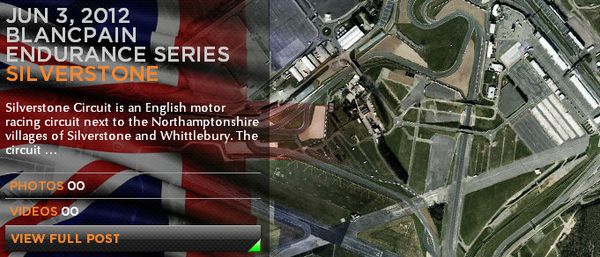 This weekend in Silverstone (UK), the crowd attended the fantastic victory of Marc A. Hayek, President & CEO of Blancpain, and co-driver Peter Kox under heavy rain.

After 3 hours of epic racing, the two pilots climbed on the top rank in the PRO-AM category.

Starting from the 7th position, the two pilots showed great racing skills by overtaking one by one all their opponents, Marc A. Hayek even overtook a professional driver in the ultimate laps.

The pair also finished fourth overall against a host of professional driver pairings in a field
featuring 53 cars.

Heavy rain throughout the day and during the race made driving very challenging.

Mr Hayek and Kox were equal to the challenge.

Starting from seventh on the grid, Peter Kox managed to navigate around the 5.14km course which resembled a skating ring given the amount of rain that soaked the track surface.

Hayek, driving the final stint in the three-hour race, completed a daring overtaking move to secure first place in the PRO-AM class at the finish.

Holding down fifth place overall in the closing laps, Marc A. Hayek already had the PRO-AM
class won, but nonetheless went by a PRO class rival in a BMW Z4 at the outside of
Brooklands corner.

To complete the move on the wettest line of the circuit was a tremendous achievement.

"My car was handling well and I had a lot of fun.

In the wet, there can be as much grip off line as on, so I decided to go for it", he revealed.

His co-driver Peter Kox praised Marc A. Hayek for his brilliant performance but admitted that he was "holding his breath" as he made the late charge for fourth place overall.

"Marc obviously has a very busy other life away from the track. He has not done a lot of
running so his performance today was impressive. It was the perfect result for the team."

The Lamborghini Blancpain Super Trofeo arrived in Silverstone for rounds three and four of the 2012 European series.

Wet conditions failed to damp the spirits of the Pro Am and Am competitors, with more than half the 17-strong grid challenging within the Am category of the gentleman driver series.

With the Formula One technical guru, Adrian Newey, as driver of the Lamborghini 1, the Super Trofeo offered the public exciting races.

On Sunday, the Swiss driver Cédric Leimer, Autovitesse Garage R Affolter, won the first race and Amici, Autocarrozzeria Imperiale SRL, the second race.

The next Blancpain Race weekend will take place in Paul Ricard HTTT, France from June
30th to July 1st, 2012.

courtesy of Blancpain