CELSIUS MECHANICAL PHONE 2ND GENERATION
OPTIC GMT FURTIF - CELSIUS MECHANICAL PHONE
Rating:

66

%

100

0

with

196

votes
Published by
José Sousa
2725
on November 7th, 2012 at 05:49 p.m..

Do you like it?

Yes a lot

2

Not so much

0
CELSIUS MECHANICAL PHONE 2ND GENERATION

OPTIC GMT FURTIF - A MECHANIC MOBILE PHONE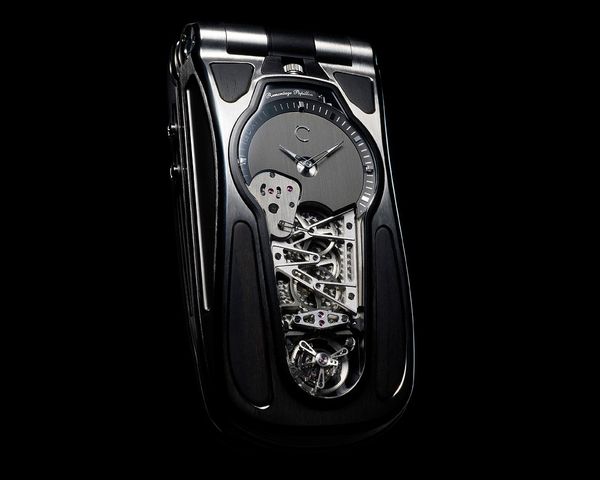 CELSIUS - OPTIC GMT FURTIF

LIMITED AND NUMBERED EDITION OF 28 PIECES

The first model, OptiC GMT Furtif, is built on the original concept and innovates with a mysterious fibre optic microguide technology dual display.

Developed by Celsius X VI II in collaboration with Schott AG Lighting and Imaging, this Image Guiding System that uses only optical and mechanical components.

It comprises molded millions of optical fibers in parallel, forming a nearly perfect cylinder and cone.

Each of the optical fibers transmits light and a pixel is the combination of all the optical fibers that allows the system to transmit a clear image of one site to another.

The Image Guiding System is also employed in the dual time zone indication, creating an effect of increased numbers of hours.

According to the brand, the Image Guiding System is a revolution in the watch industry, opening new perspectives in giving access ainformação stored in the darkest corners of a mechanism.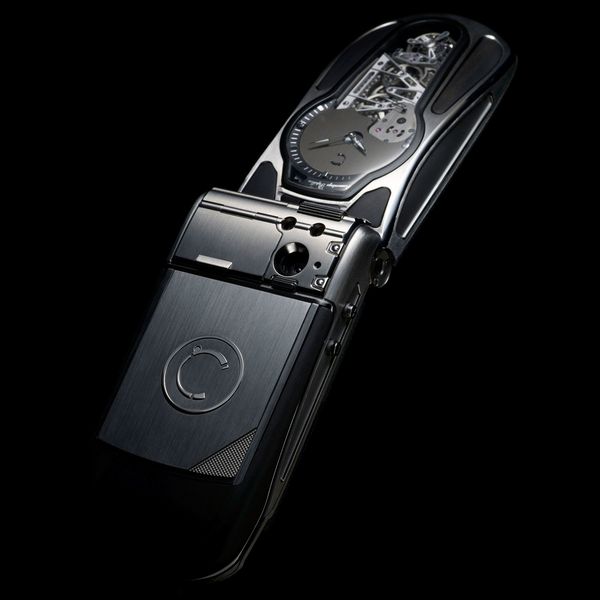 Developed by Celsius X VI II and developed by Chronode and the MFM, the caliber of watchmaking this mobile phone is based on a base of high caliber performance, indicating hours, minutes and power reserve (42 hours), in addition to innovative indications and GMT date.

The regulatory organ watch is in sight and have the wind up system "Remontage Papillon", invented and patented by Celsius X VI II.

The latter is in fact a system of automatic winding, with a traditional rotor, which stores energy 2.23 hours each time the phone is open or closed.

You can found the video here - CELSIUS MECHANICAL PHONE VIDEO

TECHNICAL DETAILS - CELSIUS OPTIC GMT FURTIF
LIMITED AND NUMBERED EDITION OF 28 PIECES

REFERENCE:
OPTIC GMT FURTIF

GENERAL FEATURES:
Clamshell mobile phone
700 mechanical parts, including 314 in the watch movement alone
Structure entirely milled from a block of grade 5 titanium treated PVD
Inserts in quartz and carbon fibres
High-end watchmaking finishes:
Polishing, Clous de Paris hobnail pattern, shotblasting

MECHANICAL MOVEMENT FEATURES:
Patented mechanical hinge (Remontage Papillon), serving to harness and store the kinetic energy generated by the user
The energy is then used to activate the mechanical system 42-hour power reserve
Each opening and closing of the clamshell phone generates an additional 2.23 hours of power reserve
Revolutionary fibre optic display (Image Guiding System) for the big date and the GMT
¾ bridge 50-jewel movement
Visible escapement wheel with a unique index system

PHONE FEATURES:
Mechanical battery-ejection system, Clous de Paris hobnail pattern
Technology developed in cooperation with a French company, renowned for the high quality and reliability of its platforms
Every platform is customized and tested to meet the highest standards
Platform Made in France, 2.75G GSM-GPRS-EDGE : Triband 900/1800/1900MHz
User interface deliberately simple, user-friendly and designed to optimize the ergonomics
Battery: Li-Ion 770mAh, >3.5 hours talking time, 240 hours of power reserve in standby mode
Multi-lingual interface, including: French, English, Chinese, Russian, Spanish and Arabic

ECOSYSTEM OF ACCESSORIES:
"LeFourreau": hand-stitched leather accessory designed by Celsius X VI II and made by specialized craftsmen
"LeKit": Mechanical Hands-Free Kit in carbon fibres and polished /satin-brushed metal
This "tie pin" accessory includes an ingenious system ensuring the wires do not tangle

RETAIL PRICE:
CHF 92,400.00

FOR MORE INFORMATIONS:

SITE:
www.celsius-x-vi-ii.com