SOPRANO TOURBILLON MINUTE REPEATER
SOPRANO - One watch for the enjoyment of just lucky few guys
Rating:

69

%

100

0

with

376

votes
Published by
José Sousa
2724
on October 22th, 2012 at 07:06 p.m..

Do you like it?

Yes a lot

5

Not so much

0
CHRISTOPHE CLARET - SOPRANO TOURBILLON MINUTE REPEATER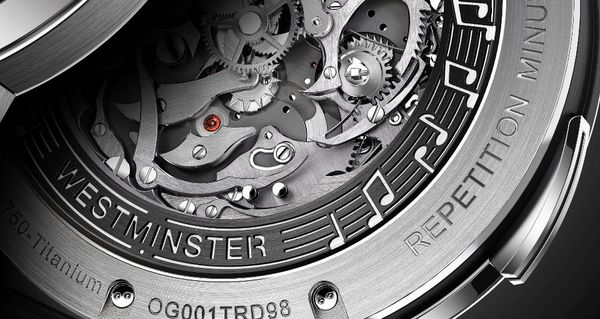 Once again Christophe Claret shows us a fantastic piece of haute horlogerie.

According to the brand the SOPRANO TOURBILLON MINUTE REPEATER is very important, since it is a tribute to the roots of Christophe Claret.

With his innovative work in the areas of complications striking and sapphire components.

In fact Christophe Claret was the first manufacturer to incorporate sapphire components.

Christophe Claret manages to successfully combine cutting-edge design and technology with centuries old techniques and complications as the minute repeater and tourbillon.

A watch very modern, almost futuristic even, and yet somehow manages to maintain a sense of tradition through adherence to time-honored practices.

As with all his creations SOPRANO TOURBILLON MINUTE REPEATER is intended for the enjoyment of just lucky few guys.

However the watch enthusiasts and aficionados from around the world can still enjoy the sheer magnificence of these mechanics, even if you never buy a "toy" like this one.

LIMITED AND NUMBERED EDITION OF 8 PIECES

There are 3 versions of the - SOPRANO TOURBILLON MINUTE REPEATER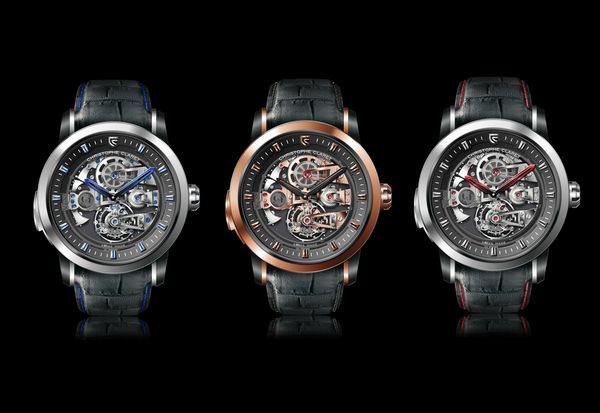 WHITE GOLD CASE - BLUE SPINAL HANDS - White gold and anthracite PVD titanium
WHITE GOLD CASE - RUBY SPINAL HANDS - White gold and anthracite PVD titanium
RED GOLD CASE - BLACK SPINAL HANDS - 5N red gold and anthracite PVD titanium

You can found the video here - SOPRANO TOURBILLON MINUTE REPEATER VIDEO

TECHNICAL DETAILS of the SOPRANO MINUTE REPEATER watch
LIMITED EDITIONS:

Each version will be limited to a maximum of 8 pieces

REFERENCE:
WHITE GOLD CASE - BLUE SPINAL HANDS
- MTR.TRD98.020-028
WHITE GOLD CASE - RUBY SPINAL HANDS
- MTR.TRD98.000-008
RED GOLD CASE - BLACK SPINAL HANDS
- MTR.TRD98.010-018

MOVEMENT:
Manual winding movement
Calibre TRD98
Single mainspring barrel in transparent sapphire crystal
450 components

TOURBILLON:
Escapement Swiss lever type
Tourbillon rotation 60 seconds
Flying tourbillon
Charles X style stepped bridge
Parachute shock protection

VIBRATIONS:
21,600 vph 3,0 (Hz)

JEWELS:
39 Jewels

POWER RESERVE:
72 hours

FUNCTIONS:
Hours and minutes
4-note minute repeater playing Westminster Quarters
Mechanical, hand-wound movement
Transparent mainspring barrel acts as movement state-of-wind indicator: when the movement is fully wound the spring is centered in the barrel

Four visible hammers, four patented cathedral gongs
Repeater mechanism features silent inertia governor
Tourbillon regulator with parachute shock absorber
Charles X style stepped bridges

CASE:
WHITE GOLD CASE
White gold and anthracite PVD titanium
Black PVD and ruby or blue spinal hands
RED GOLD CASE
5N red gold and anthracite PVD titanium
Anthracite PVD and black spinal hands
Repeater mechanism is activated by a slide on the left side of the caseband

CROWN:
RED GOLD CASE - Red gold and titanium
WHITE GOLD CASE - white gold and titanium

SIZE:
Measuring 45mm in diameter

DIAL:
Charles X style hollow gradient the Panchiao Hollow barrel and ratchet gray
Sapphire crystal dial perspective tone spring
Sapphire or ruby ​​pivot

GLASS:
Sapphire with anti-reflective coating

WATER RESISTANCE:
30 meters

STRAP:
RED GOLD CASE - Black hand-sewn alligator leather with black stitching
WHITE GOLD CASE - Black hand-sewn alligator leather with ruby or blue stitching

BUCKLE:
RED GOLD CASE - Red gold and titanium
WHITE GOLD CASE - White gold and titanium

RETAIL PRICE:

RED GOLD CASE
CHF 468.000,00

WHITE GOLD CASE
CHF 476.000,00

FOR MORE INFORMATIONS:

SITE:
www.christopheclaret.com