Discover the Geo.Graham Tourbillon Orrery
Graham presents the magnificent Geo.Graham Tourbillon Orrery watch with a view of the solar system
Rating:

66

%

100

0

with

326

votes
Published by
José Sousa
2724
on July 5th, 2013 at 05:41 p.m..

Do you like it?

Yes a lot

0

Not so much

0
GEO.GRAHAM TOURBILLON ORRERY

LIMITED AND NUMBERED EDITION OF 20 PIECES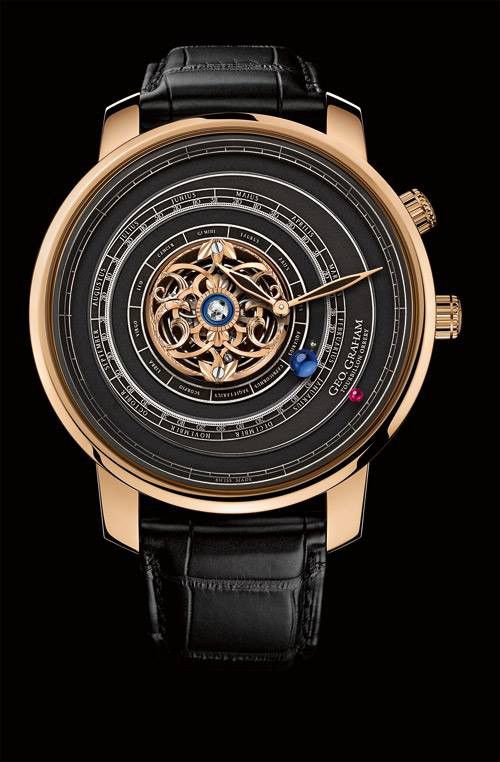 AN ASTRONOMICAL WATCH
Graham has produced the Touribllon Orrey, an planetarium watch to celebrate the 300 years of the Orrery with a moving earth, moon, and mars display.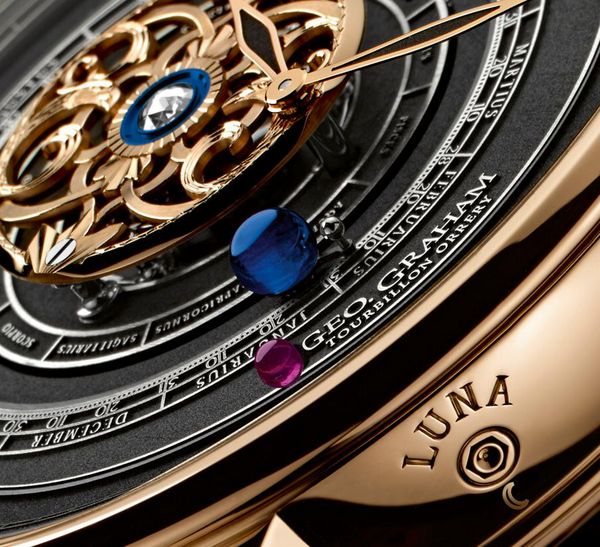 A CELEBRATION OF THE 300 YEARS OF THE ORRERY

The Geo.Graham Tourbillon Orrery is a tribute to the 300th anniversary of the invention of the Orrery, the mechanical solar system model created by George Graham in 1713.

1713-2013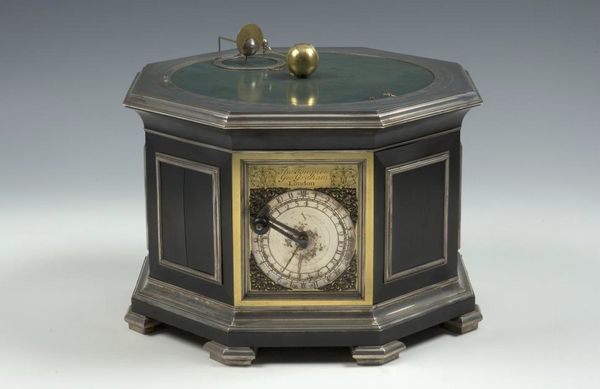 GEO.GRAHAM TOURBILLON ORRERY

It's actually more than a wristwatch, it is also an orrey, a device that shows the relative positions and motions of bodies in the solar system using balls moved by clockwork.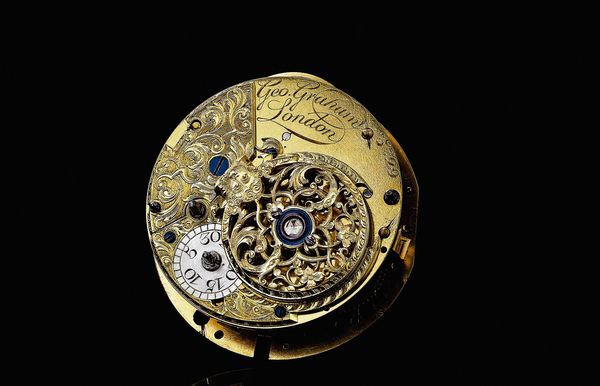 This magnificent timepiece shows the orbital patterns of the Earth, Moon and Mars rotating around the Sun, represented by an 18k fiery pink gold lattice design. Beneath the sun, slightly visible, is the tourbillion on the center of the dial. The moon, represented by a steel rhodium ball, rotates around the earth as the earth, represented as a clear blue sapphire ball, rotates around the sun. Mars is represented by a round red ruby, circles the sun on the outer edge of the dial.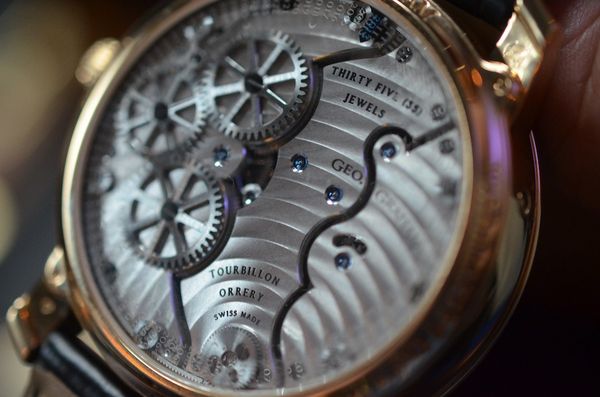 The movement that powers this timepiece was made exclusively for Graham by Christophe Claret. Its accuracy is exceptional: The earth revolves at exactly 365 ¼ days so there is no adjustment for the leap year. Corrections to the orbital patterns are minimal and are planned and indicated on the back of the watch. For the moon it's every seven years, for Mars it's every 25 years and for the earth (wait for it) every 1,152 years. The moon and mars have self correcting indicators. The orrery should be functional for 300 years before needing to be taken to a watchmaker for a minor adjustment to the perpetual calendar.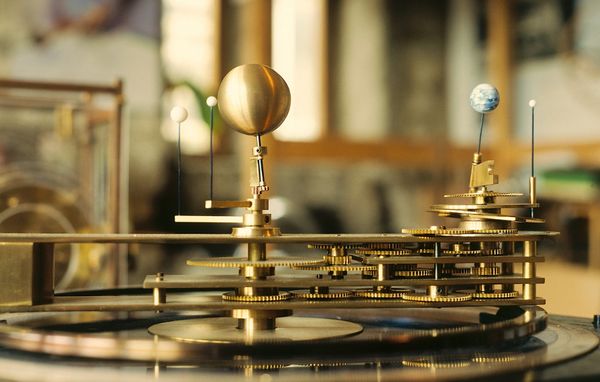 RETAIL PRICE:
$ 330,000.00

TECHNICAL DETAILS - TOURBILLON ORRERY
LIMITED AND NUMBERED EDITION OF 20 PIECES

REFERENCE:
2GGBP.B01A

MOVEMENT:
G1800 calibre
High precision mechanical movement exclusively made for GRAHAM by Christophe Claret
Haute Horlogerie finishing
Circular "Côtes de Genève" decoration
Tourbillon Orrery with solar system mecanism
Incabloc shock absorber

VIBRATIONS:
21,600 vph 3 (Hz)

JEWELS:
35 Jewels

POWER RESERVE:
72 hours - 2 barrels

FUNCTIONS:
Manual Tourbillon Orrery, mechanical solar system model with 100 years calendar (two additional graduations of 100 years - 300 years in total).
Year counter on the case back with planet correction indicators. (Moon: 7 years, Earth: 1156 years, Mars: 25 years)

CASE:
Pink gold (18K)
Right hand control crowns (planets' crown at 2:00 o'clock, manual winding and time crown at 3:00 o'clock), Moon corrector at 4:00 o'clock, Mars corrector at 10:00 o'clock
Pink gold (18K) bezel

CASEBACK:
See-through sapphire crystal case back with 100-year scale, Moon and Mars correction indicators and serial number hand-engraved

SIZE:
Measuring 48,00mm in diameter
Measuring 17,60mm in thickness

DIAL:
Black dial with Geo.Graham Tourbillon Orrery inscription at 4:00 o'clock
3 scales - from the outside to the centre: hours and minutes scale, Gregorian
calendar (365.25 days - Earth indicates the date), Zodiac scale (12 astrological signs
- Earth indicates the zodiac sign). Counter-clockwise reading.
Solar system: The Moon (rhodium, Ø0.90 mm); The Earth (blue sapphire, Ø3.20 mm);
Mars (ruby, Ø1.70 mm); The Sun (pink gold (18K) - hand-engraved Tourbillon bridge
with 2 Phoenix heads inspired by George Graham decoration and a close set
diamond at the centre (Ø2.50mm). Counter-clockwise reading.
Off-centre skeleton pink gold (18K) hands with black Super-LumiNova coating

GLASS:
Dome sapphire crystal (semi-spherical), anti-reflective coating on both faces

WATER RESISTANCE:
5 Bar = 50 meters

STRAP:
Hand-sewn black croco
Pink gold (18K) pin buckle

FOR MORE INFORMATIONS
SITE:

www.graham-london.com