ROMAIN JEROME ART DNA - BY JOHN M ARMLEDER
A NEW RJ-ROMAIN JEROME COLLECTION IS BORN
Rating:

53

%

100

0

with

292

votes
Published by
José Sousa
2725
on October 17th, 2012 at 04:01 p.m..
Do you like this?

Yes

1

Not so much

0

A NEW RJ-ROMAIN JEROME COLLECTION IS BORN

ROMAIN JEROME ART DNA - BY JOHN M ARMLEDER

RJ-Romain Jerome welcomes contemporary art.

For its first partnership of this kind, the watchmaking Maison has chosen to collaborate with an internationally renowned Swiss artist, John M Armleder.

This exceptional encounter between contemporary art and Fine Watchmaking has given rise to ten unique timepieces, all of them featuring a recurrent motif in John M Armleder's work:

THE SKULL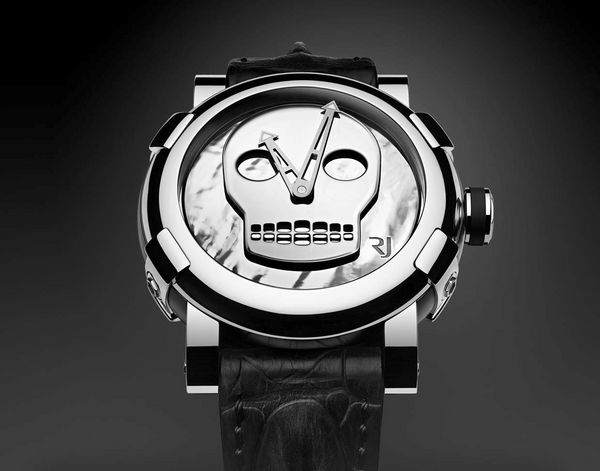 Already featured in mural paintings and as a cut-out on a mirror, this skull inspired by Amerindian culture is now featured on RJ-Romain Jerome watch dials in an unprecedented collection.
Enter your bold text here
Manuel Emch, CEO of RJ-Romain Jerome, is a keen collector of contemporary art.

He has always admired the work of this Geneva-based artist, who refuses any form of classification of his work, preferring instead a principle of constant ″questioning″ conducive to hybrid interpretations of various genres.

The two men thus naturally decided to unite their talents and ideas for the benefit of art.

″I had since long wished to combine my twin passions for contemporary art and watchmaking, and to apply the principle of a unique work of art to a limited-edition watch″, explains Manuel Emch.

″Given the brand's origins, it was important to me to work with a Swiss artist and my own admiration for John M Armleder's work and his status as a role model for young artists meant that my choice was quickly made!″

Conceived like veritable works of art, these Art-DNA pieces are made of polished steel.

The skull motif applique is raised and serves to decorate the hammered, polished dial.

The underside of the applique is lacquered with a colour revealed by a subtle play of shimmering reflections on the dial.

Each unique piece is a different colour.

The back of the watch is numbered and bears an engraved medallion with the artist's signature.

For John M Armleder, ″the skull evokes a memento mori and an allegory of the passing of time, which is an appropriate subject for a timepiece and which interests both art and watch collectors″.

The artist adds: ″All these watches that give the impression of looking alike are ideally suited to death, which is basically the same for everyone, but which takes place differently each time.″

FOR MORE INFORMATIONS:

SITE:
www.romainjerome.ch