Vacheron Constantin receives an award
The Manufacture Vacheron Constantin receives an award from the Florens Foundation
Rating:

54

%

100

0

with

318

votes
Published by
NorMan

3806
on November 13 2012, 09:21.
Do you like this?

Yes

1

Not so much

0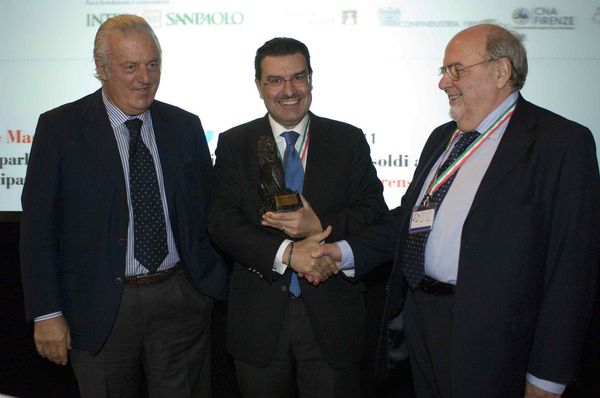 Mauro Fancelli, vice-president of the Florens Foundation ; Juan Carlos Torres, CEO, Vacheron Constantin and Giovanni Gentile, President of the Florens Foundation

FLORENCE, WEDNESDAY NOVEMBER 6TH 2012 – DURING "FLORENS 2012", THE INTERNATIONAL BIENNIAL CULTURAL AND ENVIRONMENTAL HERITAGE WEEK, VACHERON CONSTANTIN CEO JUAN CARLOS TORRES WAS AWARDED THE FLORENS PRIZE BY THE PRESIDENT OF THE FLORENS FOUNDATION

The award, attributed this year to ten international personalities for their commitment to Artistic Crafts, is a token of recognition for a man who for years has been committed both personally and on behalf of the company he manages to supporting the world of Art and Culture, the very foundation of transmitting expertise.

Building on over 250 years of uninterrupted activity, Vacheron Constantin senses a duty to bind successive eras together by perpetuating time-honoured and sometimes forgotten forms of craftsmanship.

Behind the skills passed on from generation to generation lie human challenges that artisans take on daily by combining their talents and that Vacheron Constantin unceasingly promotes by continuing the practice and transmission of Artistic Crafts. In order to develop these exceptional crafts, the watchmaking manufacturer has created a collection called Métiers d'Art.

Each limited edition pays tribute to one or more skills linked to watchmaking. Today, in the very heart of the Manufacture, a gem-setter, a guillocheur, an engraver and an enamelling artist continue to exercise their talents, sometimes jointly.

Vacheron Constantin's commitment is expressed through its collaboration with other well-known institutions across the world such as the French National institute of Artistic Crafts and the Cologni Foundation for Artistic Craft Professions.

Last April, at the European Studies Days on the Artistic Crafts, Vacheron Constantin launched the 250 Circle, an international club federating corporate patrons that have been in business for 250 years and are keen to preserve and extend the influence of the priceless heritage represented by artistic crafts.

The International Biennial Cultural and Environmental Heritage Week took place from November 3rd to 11th in Florence.

The event is designed and organised by the Florens Foundation whose mission is promote the preservation of the cultural and environmental heritage which acts as a driving force for civil society and contributes to economic and social progress.