Discover the new Arthur Oskar Stampfli - The Wheels of Time
Baptized with the name "Les Roues Du Temps" the new "Time Diffuser" watch from AOS Watches
Rating:

66

%

100

0

with

255

votes
Published by
José Sousa
2725
on June 21th, 2013 at 02:00 p.m..

Do you like it?

Yes a lot

1

Not so much

0
ARTHUR OSKAR STAMPFLI - THE WHEELS OF TIME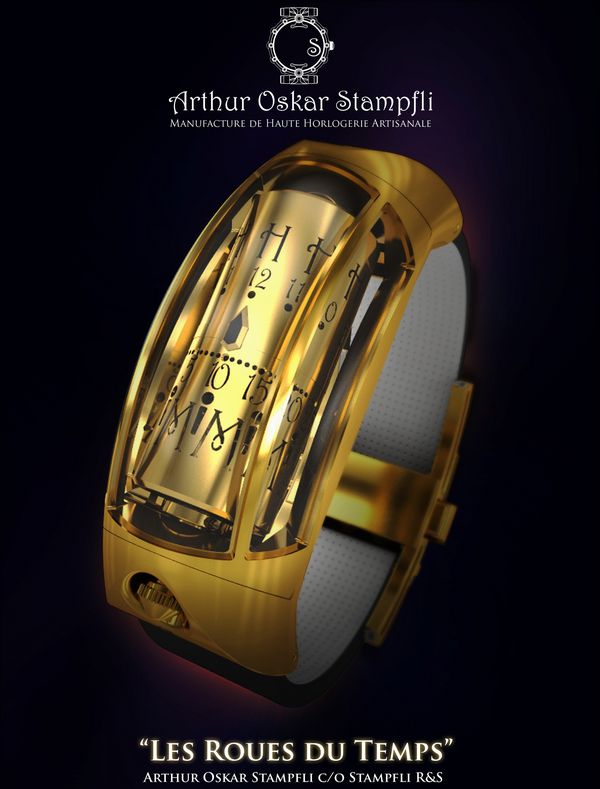 LES ROUES DU TEMPS - THE WHEELS OF TIME
In 2013 Arthur Oskar Stampfli shows us a new and fantastic concept of seeing the hours.

With the creation of this innovative piece, both in terms of design and for the movement, AOS presents its "Time Diffuser" called "The Wheel of Time".

AOS - THE WHEELS OF TIME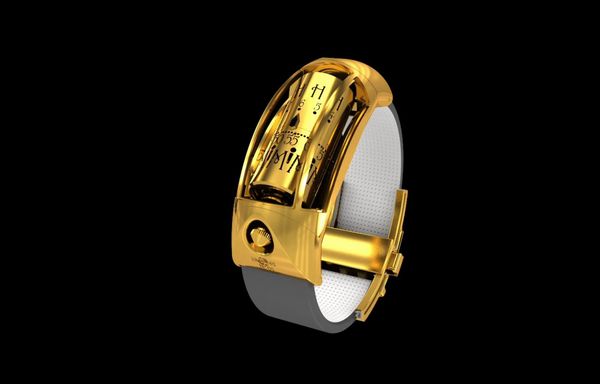 AOS try to search for a new way of convey the time, during months of research, they compared the different timepieces of the market, in the way of they display the information. In-line movements, already exists and are at the origin of fabulous achievements.

AOS choice is to perform an invisible movement because hidden in the display thereof. The "Wheels of Time" display will be comparable to Tibetan prayer wheels.

TRADITIONAL TIBETAN PRAYER WHEELS:
The traditional Tibetan prayer wheels, consists of a cylinder filled with mantras and freely rotatable about an axis. According to the associated beliefs with this item, operating as a mill beliefs, has the same spiritual value, that to recite the prayer mantra, the prayer is supposed to be spread in the air, as if it were pronounced.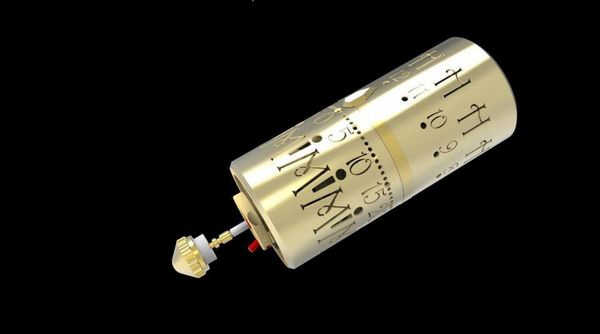 INVISIBLE MOVEMENT
Related with the theory of the mills, where mantras are enclosed in them, and distributed during the rotation, the movement encloses the time, its engine, and diffuse it on its display outside, providing the notion of hours and minutes.

This movement can only be alive, that is to say mechanical. The antagonist-rotating, of the two wheels symbolizes the paradox of the human being, in his research, to control the time, and be released from its constraints.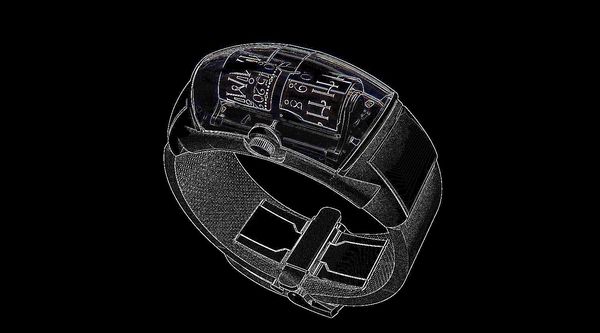 All pieces can by fully customised with precious metals, diamonds, case colouring and also adjustment of the decoration on the two independent scrolls for hours and minutes creating a unique and individual piece.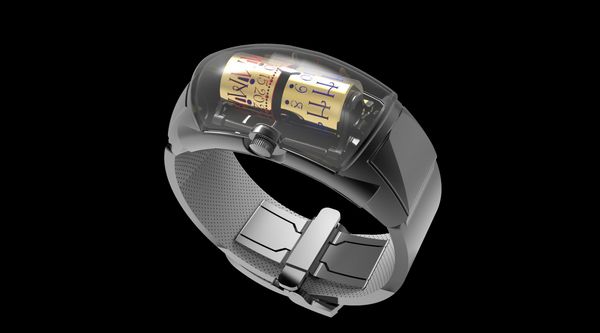 You can see here the video - Arthur Oskar Stampfli - Les Roues Du Temps

RETAIL PRICE:
RT01-/1962A : £ 29,750.00
RT01-/1962B : £ 29,750.00
RT01-/1962C : £ 29,750.00
RT01-/1962D : £ 29,750.00
RT01-/1962G : £ 64,150.00

TECHNICAL DETAILS - THE WHEELS OF TIME
REFERENCE:
RT01-/1962A : Black
RT01-/1962B : Grey
RT01-/1962C : Red
RT01-/1962D : Blue
RT01-/1962G : Gold

MOVEMENT:
RT01 In house movement
designed and developed by Roland Stampfli
consisting of a Prayer wheel style case with a fully encased Flat Motor Mechanical Movement
Independent moving hour and minute cylinders with single marker/hand for reading of time

POWER RESERVE:
40 hours

FUNCTIONS:
Hours and minutes

CASE:
Two piece Aluminium Eloxage
Available in Black, Grey, Red or Blue, also Precious metal options including Gold
With 81 grams

SIZE:
Measuring 68,00mm in lenght
Measuring 26,80mm in width

DIAL:
Hours and minutes
Super Luminova indicies and markers
Sapphire Crystal Mineral used in front and side facing viewing panels
Sapphire Crystal exhibition case back
Screw in Crown at 6:00 o'clock

GLASS:
Sapphire Crystal Mineral

WATER RESISTANCE:
10 Bar = 100 meters

STRAP:
Croc leather strap
Glista Sliding Buckle patented by AOS

FOR MORE INFORMATIONS
SITE:

www.arthuroskarstampfli.com