Audemars piguet reveals the new Haute Joaillerie 2013
Audemars Piguet recreates a scene from a Swiss winter landscape in a spectacular high jewelery watch for ladies.
Rating:

68

%

100

0

with

289

votes
Published by
José Sousa
2724
on July 4th, 2013 at 12:30 p.m..

Do you like it?

Yes a lot

0

Not so much

0
AUDEMARS PIGUET - HAUTE JOAILLERIE

WITH 440 DIAMONDS AND 11 BLUE SAPPHIRES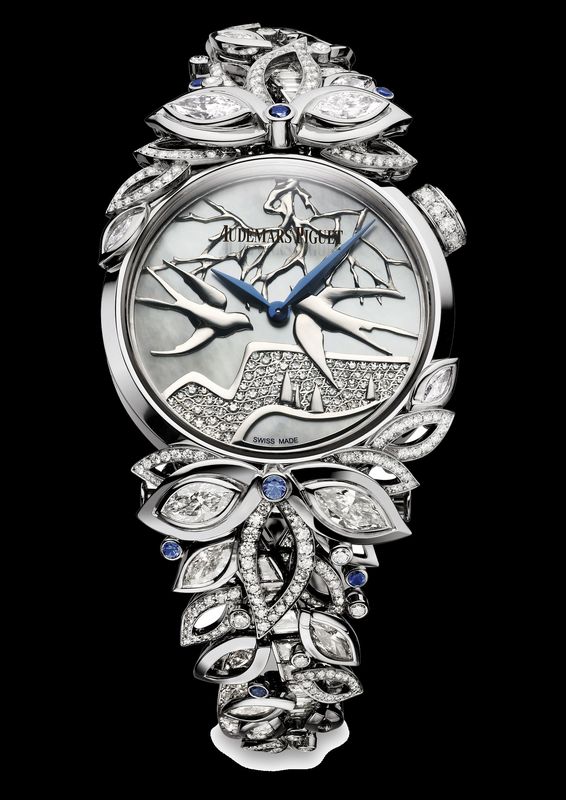 A STUNNING HIGH JEWELERY WATCH
Since its inception in 1875, the family company is located in the small village of Le Brassus in the Joux Valley, it symbolically displayed in this new creation of Audemars Piguet.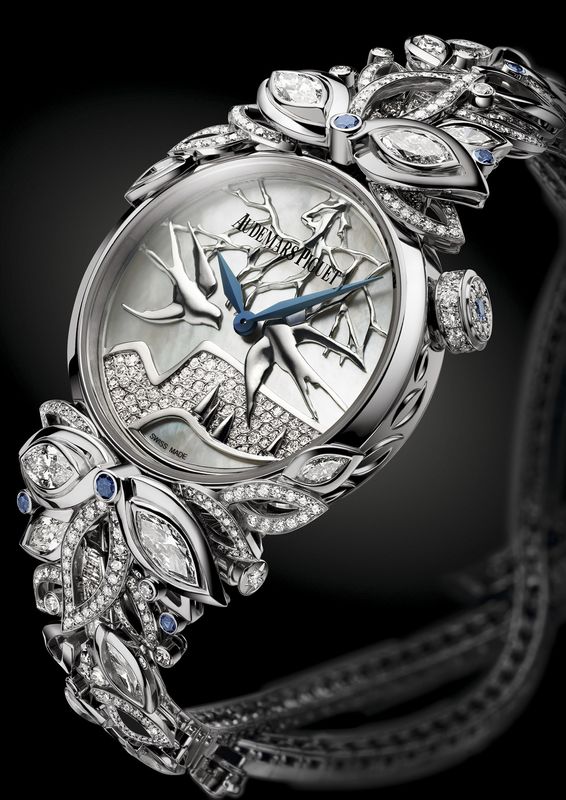 THIS IS NOT JUST A WATCH: THIS IS A HIGH JEWEL WITH HOURS
This wristwatch with 28.5 mm diameter in a bracelet made of leaves of different sizes in thin branches interwoven. It is a piece that plays with the ramifications reversed asymmetry, a crown at 2:00 o´clock, alternating surfaces polished and studded with diamonds. The stylized landscape evokes the sphere Dent Vaulion, the peak of the Jura Mountains, overlooking Lake Joux. To symbolize the peaceful nature sleeping under the snow, the designer decided to combine white pearl, gold and diamonds. Some blue sapphires increase coldly a flight of swallows announces the imminent arrival of spring.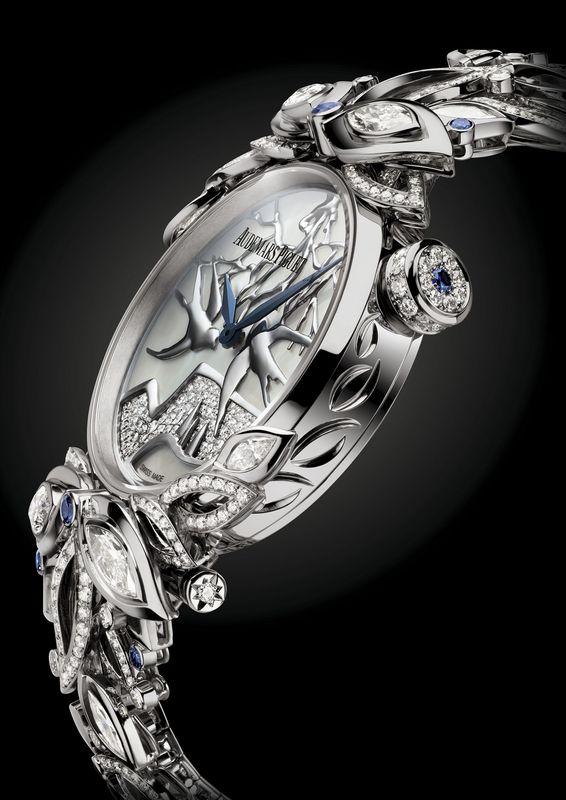 JEWEL BRACELET
The realization of the bracelet need to be particularly long and laborious. Before the manufacturing stage, the volume and the joints were analyzed in detail in order to obtain a perfect balance and an improved flexibility with respect to the original design. Each gold leaf, different size was molded individually by hand. The beautiful foliage covers the delicate branches, mounted as a sophisticated Parisian mesh technique, and is forming curved "S" that make the task even more complex. The jeweler has used a zip invisible and hidden inside the middle box at 6:00 o´clock, in order to preserve the aesthetics of the work. The bracelet, however, is completely disassembled, allowing for a perfect fit on the wrist of the owner.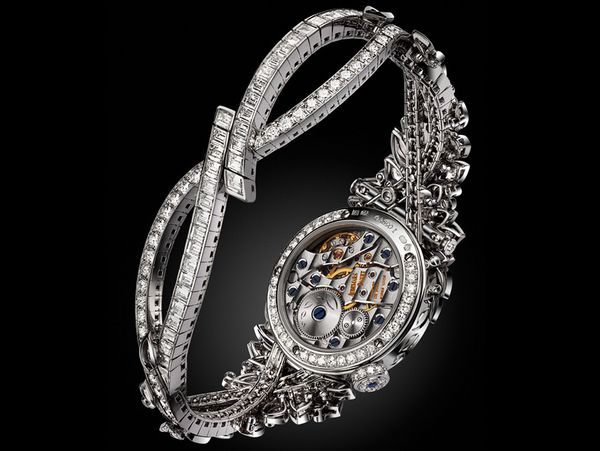 STONES ON STAGE
The stones, the purest diamonds (IF) and sapphires of the highest quality, are pressed into shiny, baguette and marquise. Some stones are carved on the piece to fit the location that corresponds to them, others however have a character so extraordinary, that form is imposed on the structure. The different media, snow, grain and reflections are closed harmonic subtlety contrasted with inimitable composition lighted the bottom of the box.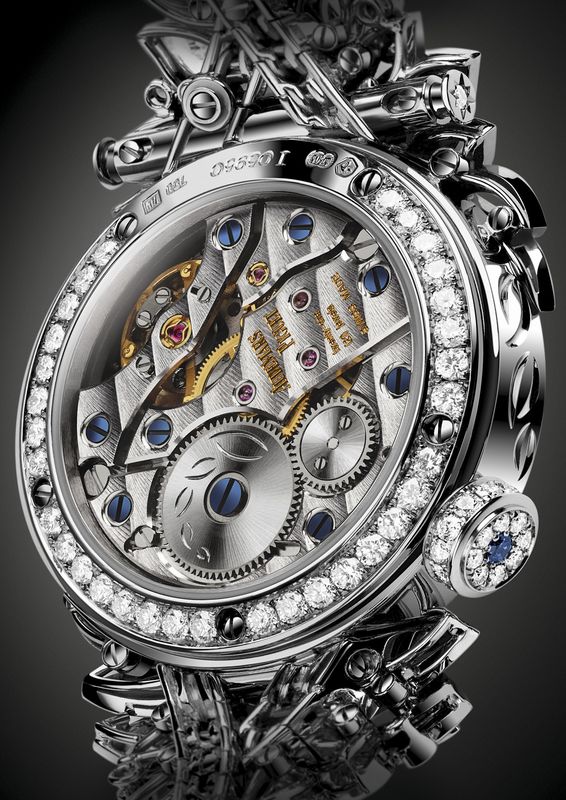 Overall, the piece has 440 diamonds, including 16 exceptional marquise, weighing 10.99 carats and 11 blue sapphires weighing 0.21 carats.

RETAIL PRICE:
On demand

TECHNICAL DETAILS - HAUTE JOAILLERIE
MOVEMENT:
Hand wound movement
Calibre 3091
Developed and manufactured at the Manufacture Audemars Piguet
Blue steel screws
Thickness - 2.80 mm
With 148 components

VIBRATIONS:
21,600 vph 3 (Hz)

POWER RESERVE:
48 hours

FUNCTIONS:
Hours and minutes

CASE:
White gold
Iinvisible clasp concealed at 6:00 o'clock beneath the case

SIZE:
Measuring 28,50mm in diameter

DIAL:
Mother-of-pearl, gold and diamonds
Open-worked like lace
Décor on a base covered in diamonds and pristine mother-of-pearl
Surface of extreme finesse (0.3 to 0.4 millimetres thick)
Stylised landscape on the dial evokes the Dent de Vaulion

GLASS:
Sapphire crystal with anti-reflective coating inside

BRACELET:
Bracelet featuring gradually decreasing foliage developed on fine, intersecting branches
With reverse ramifications and a crown offset at 2 o'clock
Great subtlety expressed through alternating polished and gem-set surfaces
Invisible clasp concealed at 6:00 o'clock beneath the case
The bracelet can be completely taken apart, any adjustments can be easily made

FOR MORE INFORMATIONS
SITE:

www.audemarspiguet.com