Breguet FUSEE TOURBILLON TIMEPIECE
AN EXCEPTIONAL ACHIEVEMENT JOINS THE TRADITION COLLECTION
Rating:

66

%

100

0

with

174

votes
Published by
NorMan

3807
on January 11th, 2009 at 06:19 p.m..

Do you like it?

Yes a lot

25

Not so much

0
Admired by the public and professionals alike as a truly novel collection heralding a fresh horological era, the Tradition line welcomes its first major complication this year. The design's essential attributes correspond perfectly to the collection's bold, visionary approach. Breguet timepiece 7047 features a spectacular tourbillon mechanism coupled to a fusee-and-chain transmission.

It incorporates the Breguet 569 handwound caliber, whose technical qualities speak for themselves.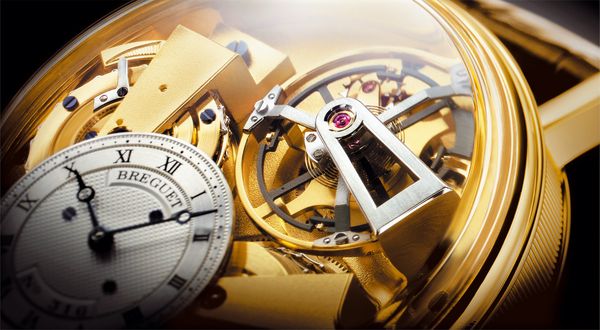 The movement's many unique features include its power -reserve indicator for which a patent application has been filed. Positioned at 10 o'clock, it is located directly on the barrel drum (the movement's power source) and features a system of reducer differentials allowing the indication to appear directly on the drum. The latter's large dimensions furthermore enabled watchmakers to fit it with two barrels, increasing the amount of energy stores and provides.

The fusee-and-chain transmission is designed to optimize watch-rate regularity by ensuring a constant torque whatever the actual degree of winding tension (a mechanical watch mainspring's torque usually varies with the degree of winding). Conical in shape, the fusee features differential gears that convey a continuous flow of energy to the movement.

When the watch and barrel are fully wound, thus providing peak traction, the chain connecting the barrel to the fusee winds around the latter's smallest circumference whereas when the barrel is only partly wound and thus cannot develop its full torque, the chain winds around the broadest part of the fusee, offsetting in this way the barrel's loss of power. The winding system further benefits from a crown wheel with frontal toothing that considerably improves its responsiveness. Unquestionably a harbinger of things to come, the Tradition 7047 timepiece nonetheless embodies a full measure of Breguet's product identity.

Inspired by the first tourbillon-equipped pocket watches of the early 19th century, it includes such signature features as caseband fluting, round-ended welded lugs and blued-steel Breguet hands. Its yellow gold case holds centuries of accumulated horological know-how. Slim bezel and domed crystal together clearly reveal the movement's various levels and provide a good view of the tourbillon carriage's generous proportions. Its thin bar (or barrette), upper bridge and carriage all derive from A.-L. Breguet's earliest sketches.

Fitted with a Breguet balance made of titanium, patented in 2004, and an upper bridge also fashioned in titanium, the tourbillon carriage's impressive size is offset by its spare design. For its part, the Breguet-shaped barrette is made of nonmagnetic stainless steel.

Off-centred at 7 o'clock, the dial reflects understated design in the established Tradition style, underlined by the movement's impeccably shot -blasted surface finishing.

Engine-turning in the Clou de Paris cobbled pattern, classic Roman numerals and Breguet hands all evoke the very origins of the brand. Secured by three blued screws, the dial plate salutes the celebrated subscription watches devised centuries ago by Breguet himself.

Such accomplished design enhances each and every component. The ir visibility, contrasting character and three -dimensional structure come together in a unique architectural composition, emblematic of a groundbreaking collection incorporating impeccable horological artistry.

Breguet 7047 FUSEE TOURBILLON TIMEPIECE specifications
LA TRADITION BREGUET
FUSEE TOURBILLON TIMEPIECE
DESCRIPTION OF THE WATCH
REF. 7047/BA/11/9ZU

Case round in 18K yellow gold with finely fluted caseband.
Sapphire caseback.
Diameter: 41 mm.
Rounded horns welded to the case, with screw pins securing the strap.
Water-resistant to 30 metres (~ 100 feet).
Dial in silvered 18K gold, off -centred to the 7 o'clock position and hand -engraved on a rose engine.
Individually numbered and signed Breguet.
Chapter ring with Roman numerals.
60-second tourbillon positioned at 1 o'clock.
Blued steel, open-tipped Breguet hands.
Movement handwound mechanical, with tourbillon regulator.
Numbered and signed Breguet. Cal. 569. 16 lines, 43 jewels, 3-Hz frequency.
Power reserve of 50 hours with power-reserve indication on the barrel drum.
Torque regularity throughout the operation of the watch provided by fusee-and-chain transmission.
Upper bridge of the tourbillon carriage in titanium.
Breguet-shaped thin bar (barrette) in nonmagnetic stainless steel.
Straight-line lever escapement.
Breguet balance in titanium with four adjustment screws in gold.
Breguet balance spring.

Adjusted in 6 positions.