Opening of the new BUBEN&ZORWEG InShop Boutique in Taoyuan/Taiwan
Experience live the magic of the unique - We are pleased to announce the opening of a new B&Z Boutique in Taoyuan/Taiwan.
Rating:

73

%

100

0

with

357

votes
Published by
NorMan

3807
on October 29th, 2013 at 04:43 p.m..
Do you like it

Yes a lot

0

Not so much

0

BUBEN&ZORWEG has further expanded the company's presence in East Asia by opening an InShop boutique in Taoyuan in the north of Taiwan.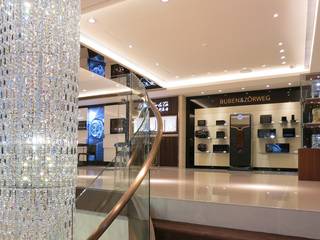 The "Rich Watch" retail store in the lively and vibrant "Taoyuan Arts District" has international top brands on display in a fascinating ambience measuring some 1,300 square metres.

From high-tech TIME MOVER® to fascinating OBJECTS OF TIME®: the generously dimensioned InShop boutique is the best possible invitation to an encounter with the universe of BUBEN&ZORWEG.

The advent in 2005 of BUBEN&ZORWEG's FINE TIMEPIECES was the first major step on the road to becoming a manufacturer of mechanical clocks.

The goal from the beginning was to use innovation and master craftsmanship to create exclusive pieces that were and are without comparison.

Outstanding feature is our focus on clocks with tourbillons: an area in which BUBEN&ZORWEG is constantly breaking new ground.