Important watches auction at Sotheby's
Here we go (A big thanks to www.zulutimezone.com for sharing this info with us!)

Registration is open if you would like to place a bid, or several obviously!

Important watches auction at Sotheby's Geneva
Example of auction: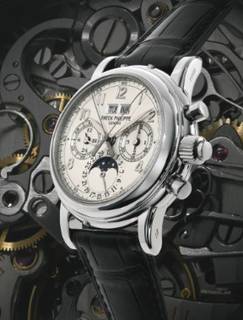 Number 311
Patek Philippe
A VERY RARE AND IMPORTANT PLATINUM PERPETUAL CALENDAR SPLIT SECONDS CHRONOGRAPH WRISTWATCH WITH REGISTERS MOON-PHASES LEAP-YEAR AND 24-HOUR INDICATION REF 5004P MVT 3275029 CASE 4146526 MADE IN 2006
Estimate Price: 150,000 - 200,000 CHF

Sotheby's watches auction
This autumn season Sotheby's Geneva auction of Important Watches held at the Hotel Beau-Rivage on 13th November will be the occasion once again for watch collectors to enter the world of vintage and modern wrist watches.

Sotheby's team of specialists assembled an exclusive selection of vintage and modern watches covering a wide range of prestigious brands such as Patek Philippe, Rolex, Vacheron Constantin, Audemars Piguet, Cartier, IWC and Panerai.

Comprising over 300 lots, comprising some very rare and exquisite pieces, the offering is also highlighted by rare models of some modern complicated timepieces.

Following the landmark sale of "The George Daniels Horological Collection" taking place in London, style and elegance in vintage and modern wrist watches at Sotheby's will take centre-stage in Geneva.

More information: Important watches auction at Sotheby's November the 13th