Feminine Dreams by GRIEB & BENZINGER
Rating:

67

%

100

0

with

253

votes
Published by
NorMan

3807
on November 13th, 2012 at 05:55 p.m..

Do you like it?

Yes a lot

2

Not so much

0
Feminine Dreams by GRIEB & BENZINGER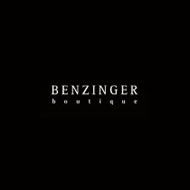 The masters of skeletonized watches at GRIEB & BENZINGER have once again made wishes come true for a lucky few. Until now, only male aficionados have been able to fulfill their horological dreams with a timepiece by GRIEB & BENZINGER.

However, a report in a luxury magazine in Dubai from the summer of 2012 was destined to change this: a Russian businesswoman – a passionate watch and jewelry aficionado – became aware of the personal service available from GRIEB & BENZINGER and the striking skeletonized watch BLOSSOM thanks to this story.

The BLOSSOM, a GRIEB & BENZINGER classic, is the only skeletonized watch in the world that is completely skeletonized, guilloché and engraved by hand.

A few telephone calls and e-mails with the GRIEB & BENZINGER workshop later, it became clear that the new dream watch by GRIEB & BENZINGER was a must! The result is exceptional and elegant: the PEARL BLOSSOM, a feminine variation of the classic skeletonized watch in a 43 mm red gold case set with 2.55 ct.

Top Wesselton diamonds and an alligator skin strap in a creamy mother-of-pearl color.

This new feminine variation adds to the BLOSSOM family, whose masculine version – called the BLACK TULIP – was created only a year ago on the special request of a U.S. pop star.

Skeletonized Watch PEARL BLOSSOM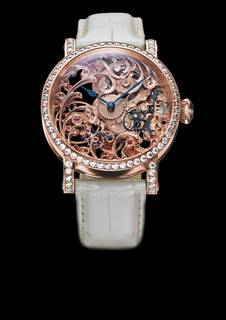 Full skeletonization in floral pattern - elegant, exceptional. The movement has been skeletonized, guilloché and engraved fully by hand. Solid 18-karat red gold case 43 mm in diameter and set with 2.55 ct diamonds. Alligator skin strap in a creamy mother-of-pearl color with an 18-karat gold buckle.
Price: 38,500 €, net ex Germany // 45,815 € incl. 19% VAT

Skeletonized Watch BLACK TULIP
Full skeletonization in floral pattern - mysterious, impressive. The movement has been skeletonized, guilloché, engraved and blackened fully by hand. Solid 18-karat red gold case 43 mm in diameter. Black alligator skin strap with an 18-karat gold buckle.
Price: 33,900 €, net ex Germany // 40,340 € incl. 19% VAT



Click on this link to read the full article abou the Grieb & Benzinger Black Tulip