BLUE SENSATION by GRIEB & BENZINGER
The Blue Sensation, another unique masterpiece based on a historic PATEK PHILIPPE for TIFFANY movement.
Rating:

68

%

100

0

with

283

votes
Published by
NorMan

3807
on October 16th, 2012 at 10:30 a.m..

Do you like it?

Yes a lot

3

Not so much

0
Hermann Grieb, watchmaking genius and one of the three partners of GRIEB & BENZINGER, has yet again opened his horological treasure chest to charm out a valuable, historical, rare chronograph movement made in 1889 by Patek Philippe and delivered in 1890 to Tiffany.

GRIEB & BENZINGER is specialized in complications such as minute repeaters, however due to the high demand for special chronographs, the German workshop specialized in high-end collector's pieces has created a new unique piece in solid platinum based on a historical Patek Philippe split-seconds chronograph movement.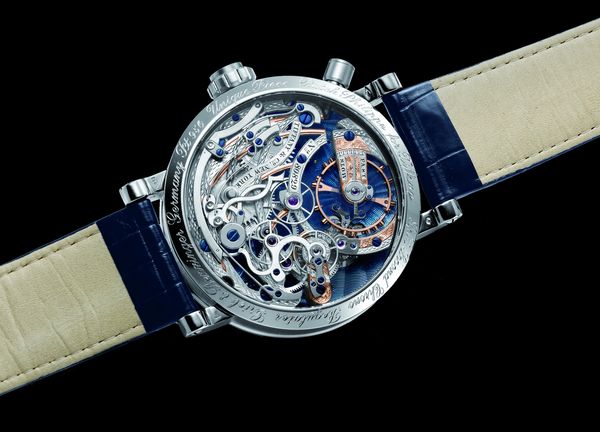 GRIEB & BENZINGER is used to doing restoration and modification on minute repeaters that are generally considered horological masterpieces.

The intense workmanship associated with the skeletonization and guilloché as well as the technical modifications of plates and bridges of this split-seconds chronograph took much more time and intense attention than all the minute repeaters worked on before it, however.

Countless hours of detailed restoration, hand-skeletonization, hand-engraving, and guilloché were invested.

The fine guilloché work of the plates and bridges necessitated moving original drilled holes by less than one-twentieth of a millimeter, and the movement needed to be continuously reassembled, adjusted, disassembled, and reassembled in order to guarantee full functioning of the great number of levers and wheels despite their elaborate treatment.

The movement was disassembled more than 20 times before being reassembled in order to guarantee all functions, even those applying to the additional modifications.

A skeletonized dial with a rare Breguet frosted finish with overlapping displays in the characteristic GRIEB & BENZINGER style unequivocally shows the connoisseur the technical prowess needed to turn such a masterpiece into a regulator—a style for which the workshop is known.

Additionally, it allows a view of the blue platinum coated base plate, a signature element of GRIEB & BENZINGER.

With The Blue Sensation, GRIEB & BENZINGER sensationally offers the only split-seconds skeletonized regulator chronograph on the market—a unique piece sure to soon find a home on the wrist of a connoisseur.

With its 49 mm diameter, this unique timepiece is not only a design statement on the wrist, with a full weight of more than 235 grams, it is once again the heaviest platinum watch in the world.

Price: 200.000 euros net (plus VAT) // 238.000 € including VAT within the EU.

Read also about the: BLUE DANUBE by GRIEB & BENZINGER and The BLUE WHIRLWIND by GRIEB & BENZINGER