MB&F NOW WITH AN EXTRA DOSE OF POISON
Rating:

67

%

100

0

with

262

votes
Published by
José Sousa
2725
on August 14th, 2012 at 06:37 p.m..

Do you like it?

Yes a lot

3

Not so much

1
MB&F MAXIMILIAN BÜSSER & FRIENDS

HM3 POISON DART FROG

LIMITED AND NUMBERED EDITION OF 10 PIECES

NOW WITH AN EXTRA DOSE OF POISON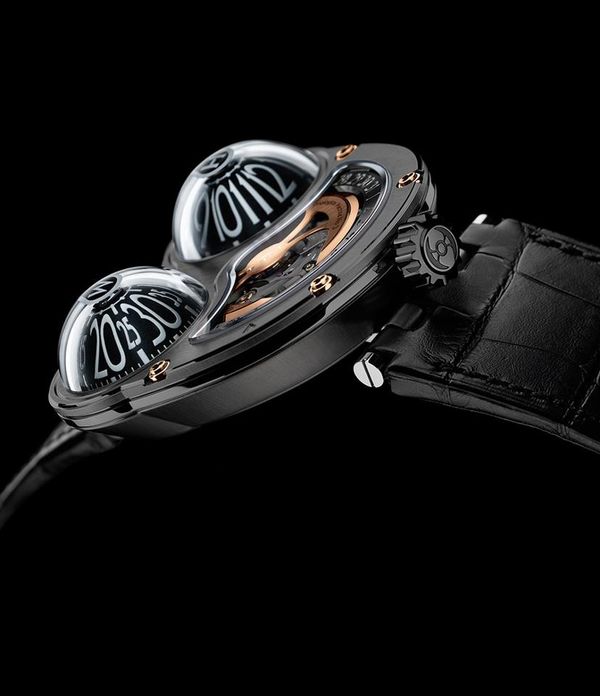 If you're a fan of National Geographic channel have certainly have seen and heard of Dendrobates Leucomelas the frog that showed you above.

Camouflage black and bright yellow, highly venomous creature used by the natives of tropical forests to smear the tips of their arrows.

Poison Dart Frog - Dendrobates Leucomelas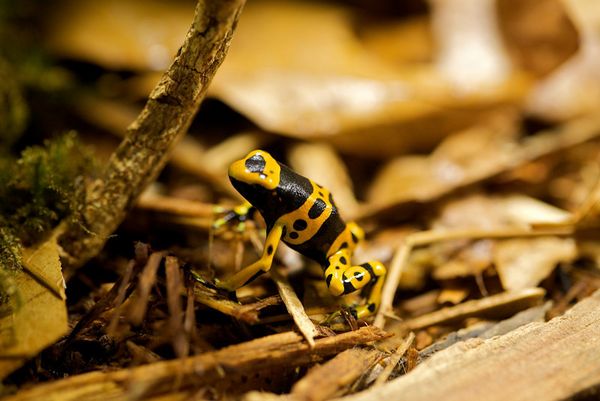 It was because of this frog that Maximiam Büsser and Friends drank inspiration for the new HM3 POISON DART FROG, cash in zirconium coated PVD black, with screws and rotor in gold, wheel big date, an architectural caliber designed by Jean Marc-Wiederrecht.

Similarly, the high-tech zirconium case of the new HM3 Poison Dart Frog is disguised by a sleek, black layer of PVD.

The black case contrasts spectacularly with the 18k gold screws and animated 22k gold rotor – framed by an over-sized date wheel – on top of the Jean-Marc Wiederrecht designed complication.

The protruding eyes of real-life, amphibious frogs enable them to see in many directions without having to turn their head.

The frog, in real life, have bulging eyes that let you peripheral vision without having to crane your neck.

The bubbles of the hour and minute of the HM3 Frog Poison Dart, sapphire glass and aluminum base, evoke it and give the user the advantage of being able to read the time from different angles.

HM3 POISON DART FROGis a limited edition of 10 pieces only

TECHNICAL DETAILS of the HM3 POISON DART FROG watch
LIMITED AND NUMBERED EDITION OF 10 PIECES

MOVEMENT:
Three-dimensional horological engine designed by Jean-Marc Wiederrecht
Powered by a Sowind base
Battle-axe shaped mystery automatic winding rotor
Rotor in blue PVD 22k gold
Hour and minutes information transmitted via ceramic ball bearings to rotating domes
With 304 Individual components

VIBRATIONS:
28,800 vph

JEWELS:
36 Jewels

FUNCTIONS:
Hour on one dome (aluminium dome rotating in 12 hours)
Minutes on second dome (aluminium dome rotating in 60 minutes)
Date around the movement

CASE:
Grade 5 titanium case and screws
Black PVD zirconium case
18k yellow gold screws

SIZE:
47mm x 50mm x 18mm
Exclusive of crown and lugs
Number of case components: 53

DIALS:
Rotating aluminium domes - 0,58g

GLASS:
Sapphire crystal domes and both display racks with anti-reflective treatment on both faces

STRAP:
Black hand-stitched alligator with 18K gold & titanium custom

BUCKLE:
Designed deployment buckle

FOR MORE INFORMATIONS:

SITE:
www.mbandf.com