Horological Machine nº4 Final Edition
The "HM4 - Final Edition" closes the HM4 series in 2013 with a limited edition of 8 pieces
Rating:

66

%

100

0

with

142

votes
Published by
José Sousa
2725
on February 26th, 2013 at 04:00 p.m..

Do you like it?

Yes a lot

1

Not so much

0
MB&F - HM4 FINAL EDITION

HOROLOGICAL MACHINE N°4 FINAL EDITION

LIMITED AND NUMBERED EDITION OF 8 PIECES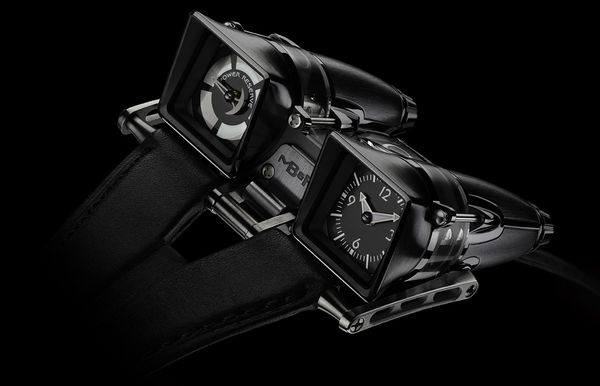 MB&F concludes with the "HM4 FINAL EDITION" the HM4 series.

The HM4 Final Edition watch may seem relatively simple, but it is extremely complicated.

AN UNUSUAL WATCH WITH FUTURISTIC LINES

Actually this watch is nothing traditional, is very unusual, with a case inspired by aviation, combines high technology with design, a work of art very complicated but with a very simple way of showing us the hours, as we say: LESS IS MORE.

A traditional wristwatch has a relatively straightforward role: to tell the time. All that is needed is a hand for the hours, another for the minutes and perhaps a power reserve indicator to keep track of running time. Horological Machine No4 Thunderbolt has a hand for the hours, another for the minutes and a power reserve indicator. HM4 Thunderbolt tells the time.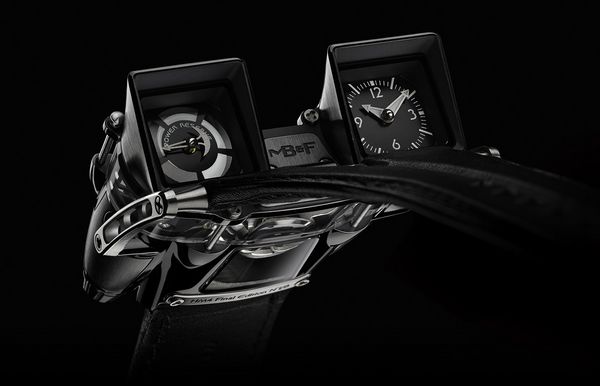 The aviation-inspired case and engine of the Thunderbolt are one. Neither would, nor could, exist without the other, yet each is so transcendental as to be able to stand alone as a work of art in its own right. The case of HM4 blends high-tech titanium for its lightweight and strength with a sapphire centre section offering a view into the engine. The limited editions HM4 Razzle Dazzle and Double Trouble take the aviation theme even further with real rivets in their fuselages and hand painted nose art inspired by the rebellious paintings on WWII aircraft, while HM4 RT offers an altogether more luxurious way to fly.

The Thunderbolt's engine is the culmination of three long years of development. Each of the 300-plus components – including the regulator and even the screws – was developed specifically for this anarchistic calibre. Horizontally configured dual mainspring barrels drive two vertical gear trains, transferring power to the twin pods indicating hours/minutes and power reserve.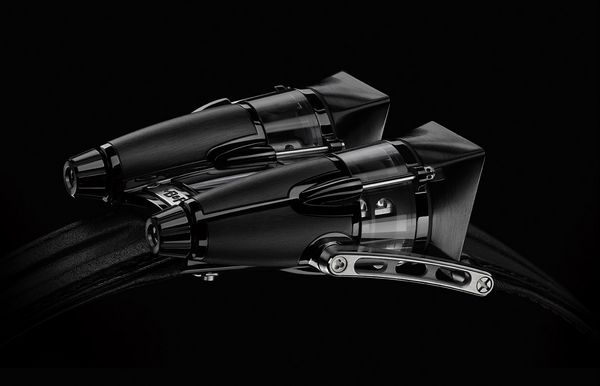 The sleek aerodynamic form of the Thunderbolt's envelope has its roots in Maximilian Büsser's childhood passion for assembling model plane kits, though none looked remotely as futuristic as these. The striking transparent sapphire section of the case requires over 185 hours of machining and polishing to transform an opaque solid block of crystal into a complex, exquisitely curved panel allowing the light to come in and the beauty of Thunderbolt's engine to stand out. Every component and form has a technical purpose; nothing is superfluous and every line and curve is in poetic harmony. Articulated lugs ensure supreme comfort. Highly legible time is a fringe benefit.

HM4 is available in titanium/sapphire; HM4 Razzle Dazzle and Double Trouble are limited editions of 8 pieces each in titanium/sapphire with hand painted nose art; HM4 RT is a limited edition of 18 pieces in 5N red gold, titanium and sapphire and the HM4 Final Edition closes the HM4 series in 2013 with a limited edition of 8 pieces in blackened titanium and sapphire.

RETAIL PRICE:
On demand

TECHNICAL DETAILS - HM4 FINAL EDITION
LIMITED AND NUMBERED EDITION OF 8 PIECES

REFERENCE:
42.BTSL.B

ENGINE:
Three-dimensional horological engine developed 100% by MB&F
Manual winding with two mainspring barrels in parallel
With 311 Individual components

VIBRATIONS:
21,600 vph 3 (Hz)

JEWELS:
50 Jewels

POWER RESERVE:
72 hours

FUNCTIONS:
Hours, minutes and power reserve indicator
Hours and minutes on right dial, power reserve indicator on left dial
Separate crowns for time setting and winding

CASE:
Blackened titanium and sapphire
With 67 Individual components
Articulation of lugs: 3°

SIZE:
54,00mm wide x 52,00mm long x 24,00mm high

GLASS:
Five sapphire crystals: 2 x dials, 1 x central case section, 2 x display panels (top and bottom)

STRAP:
Authentic vintage leather strap crafted from Swiss military bags with contrasting white hand stitching.With custom designed deployment buckle.

FOR MORE INFORMATIONS:
SITE:

www.mbandf.com